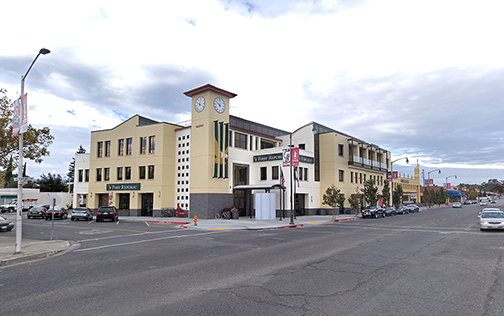 BY SARA TABIN
Daily Post Staff Writer
The owner of the College Terrace Center was able to avoid $200,000 in city fines for not having a grocery store because the city hadn't updated its codes.
When City Council approved the retail, housing and office complex at 2100 El Camino Real in 2014, the deal required the owner to have a continuously operating grocery store.
After all, the complex replaced the beloved JJ&F Market, where neighbors had shopped for decades.
Under the deal, if the grocery store sat empty longer than six months, the property owner — Blox Ventures — would have to pay $2,000 a day.
College Terrace Center opened in July 2017 along with a grocery store. That store closed about six months later, in January 2018.
The current grocery store, Khoury's Market, opened about a year later, in January 2019.
Given that the gap between stores was more than six months, the city began fining Blox the agreed-upon amount of $2,000 a day. The fines reached $344,943, but that amount was contested by Blox.
Alan Seltzer, the administrative hearing officer for Palo Alto, reduced the fee to $139,250 in a May ruling. Seltzer said such "code enforcement" fines are capped at $1,000 a day.
City Council could have changed the city code to allow higher fines, but didn't.
Seltzer also reduced the fee by $25,000 because he said the company made a "good faith effort" to replace the grocery store.
Palo Alto resident Jeff Levinsky said the city should have incorporated the code change allowing the $2,000-a-day penalty into the 2014 ordinance that approved the development.
Levinsky also said the city lost money by incorrectly determining what date the new grocery store opened.
Richard Hackman, a representative of Blox Ventures, told the city on Dec. 17, 2018, that the grocery store had opened on Dec. 6, 2018. City inspectors couldn't verify that date. But the city stopped the fines on Dec. 20. However, the store's opening wasn't reported in the news until Jan. 11.
Levinsky said the city lost money by stopping the fines earlier than it should have.
Hackman couldn't be reached for comment.
City Attorney Molly Stump and spokeswoman Meghan Horrigan-Taylor did not respond to questions about the city's code enforcement.