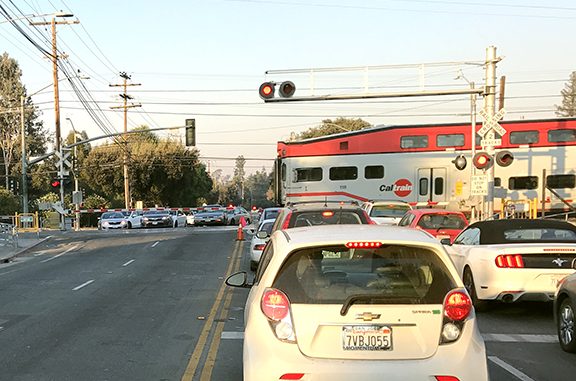 BY JEN NOWELL
Daily Post Staff Writer
As the date approaches for Palo Alto officials to make a decision on alternatives for separating the Caltrain tracks from the street, a councilwoman fears the advisory group formed to help City Council with the decision won't get its recommendations done on time.
Councilwoman Liz Kniss, who has attended many of the Expanded Community Advisory Panel's meetings, told council Dec. 9 that she has "real anxiety" about April's decision when the panel has yet to start narrowing down the options or find examples of what the real costs could be for the projects.
"I think at this point it hasn't become real, and I'm really troubled by that," Kniss said.
The April deadline is part of a schedule that ends next November with a vote on a tax for the crossings.
The advisory panel held its first meeting this past summer as it began considerations for railroad crossings at Charleston Road, Meadow Drive and Churchill Avenue. The city plans to evaluate the crossing at Palo Alto Avenue separately, as part of a larger plan for downtown.
When asked, Nadia Naik, the panel's chair, told council the April deadline still looks good, but it will be tight. The advisory group recently recruited four retired civil engineers to help in considering the options, she said.
Council had previously planned to choose options for the grade separations in October, but postponed a decision until next spring while the panel continues its work on the issue. The 14-member group is evaluating grade separation alternatives and doing neighborhood outreach. The group is expected to finish its work by the end of April.
Resident Hamilton Hitchings told the council there is no good solution for this project. Everyone is focused on what option to choose, but he asked is this really the best way for the city to spend billions of dollars?
Council rejects additional committee
At its Dec. 9 meeting, council met to vote on whether to form a Rail Blue Ribbon Commission in addition to the advisory panel to work on regional issues related to grade separations as well as funding. But in a report to council, City Manager Ed Shikada wrote that forming a second advisory group could confuse both Expanded Community Advisory Panel members and the public.
Council voted unanimously not to put together another advisory panel.
Vice Mayor Adrian Fine said the idea of a Rail Blue Ribbon Commission seems "unnecessary" to him, adding that council members can attend XCAP meetings on their own and be their own liaison to council.
Shoofly needed
In considering the options, Naik said it recently came to the group's attention that Caltrain requires a shoofly track during construction, even when just lowering the road. A shoofly track is a temporary track used to avoid an obstacle that may be blocking a train's normal track.
Mountain View and Sunnyvale are ahead of Palo Alto because those cities' options don't require touching the Caltrain tracks, but Naik said this new information may mean it is more complicated for them than first thought, which may eventually have implications for Measure B money.
About $700 million of the $6.3 billion that the half-cent sales tax will raise over 30 years has been set aside to build bridges to separate streets from the tracks in Sunnyvale, Mountain View and Palo Alto.
A grade separation is needed at eight crossings in the county, and with four located in Palo Alto, city officials from that city assumed they would get half of the $700 million.
But the transit agency is handing out funds based on how "shovel ready" the projects are, and Mountain View and Sunnyvale are closer to starting construction while Palo Alto hasn't yet decided on a configuration for any of its grade separations.
Palo Alto is currently considering seven alternatives for its rail crossings. Council is expected to choose an alternative for the crossings by May.