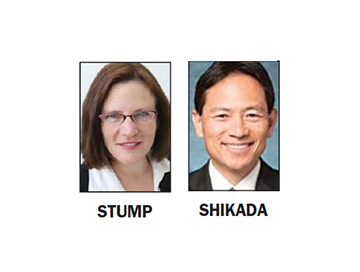 BY SARA TABIN
Daily Post Staff Writer
Palo Alto City Council on Monday (Dec. 16) is set to give two employees raises totaling over $20,000 a year and invest $4 million into a home for City Manager Ed Shikada.
City Attorney Molly Stump, who last month settled a suit over a police beating that was caught on camera for $572,500, will get a $14,934 raise if City Council approves an amendment to her contract from the city's Human Resources department at council's Monday meeting. The raise would increase Stump's salary by 5%, from $298,480 to $313,414. Stump's been with the city since 2011.
Palo Alto is also poised to contribute $3 million to City Manager Ed Shikada's home if he buys a house in Palo Alto. The city would also lend Shikada $1 million for the house. Shikada will not get to keep the city's investment when he sells the property.
Some of the money that the city puts into Shikada's home will come from the sale of the house of former City Manager Jim Keene. The city helped Keene buy a house at 335 Webster St. in 2010.
The city paid $1.4 million of the $1.9 million purchase price. He had to pay $500,000, for which he borrowed $468,750 from the city with council's approval.
The home sold for $3.9 million. The city has $2.9 million from that sale that will go towards Shikada's new home.
Shikada makes $356,000 a year.
City Clerk Beth Minor is up for a $6,489 raise, which would bring her salary from $152,693 to $159,182.