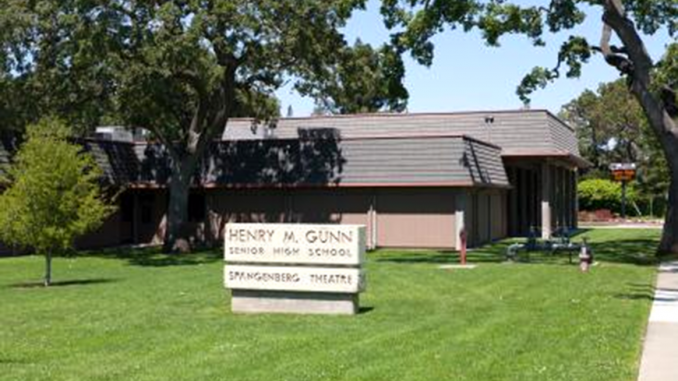 By the Daily Post staff
Palo Alto police said that this morning they took into custody a 17-year-old Gunn High School student who posted an anonymous online threat to carry out a shooting at the school.
The student will undergo a mental health evaluation, and may be facing criminal charges, police said.
On Thursday (Dec. 12) at 9:15 p.m., police received an e-mail tip via their TipNow system (paloalto@tipnow.org) reporting a threat of a shooting slated to occur at Gunn sometime today (Dec. 13).
The threat had been submitted anonymously via an online web form to be considered for publication on a public Facebook group moderated by a small group of people, police said. The moderators saw the online web form submission and forwarded it to police. They never posted the threat on the Facebook group page.
The threat, several paragraphs in length, said the author had a handgun and wanted to shoot students, police said.
Police detectives identified the suspect as a 17-year-old Gunn student. At 2:45 a.m. today, police went to the suspect's home in Palo Alto and took the student into custody for a mental health evaluation.
A statement from police didn't identify the student or say whether the student was a boy or a girl.
Police searched the residence and located a realistic-looking replica handgun that shoots BBs in the student's room.
Detectives will be submitting the case to the Santa Clara County District Attorney's Office and Juvenile Probation Department for review for criminal charges.
"As always, we encourage anyone who sees something suspicious, be it in person or online, to promptly report it to their local law enforcement agency," police said in a statement. "We applaud the moderators of the Facebook group for identifying this threat and reporting it to us so we could open an investigation and find the person responsible."
Anyone with information about this incident can call police at (650) 329-2413. Anonymous tips can be e-mailed to paloalto@tipnow.org or sent via text message or voice mail to (650) 383-8984.