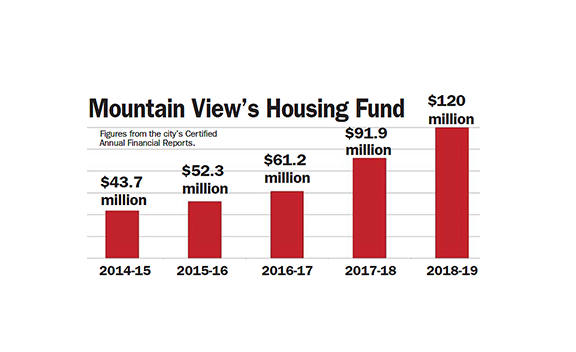 BY SONYA HERRERA
Daily Post Staff Writer
Mountain View, which has seen a surge in homeless people living in RVs on the streets, has $120 million in its housing fund, and $48 million of that isn't committed to any particular project.
"We're not doing nearly enough at this point to meet the current need, nor the projected need," said Alex Nunez, a Mountain View resident and affordable housing advocate.
But he said Mountain View has done a good job building homes compared to other cities.
The $120 million comes from fees developers pay on office buildings and residential developments.
The housing fund has nearly tripled in the past five years.
The fund has helped the city build 310 units of affordable housing in the past few years, according to Tim Wong, the city's housing and neighborhood services manager. Wong said these developments cost the city about $47 million, and that the city has committed $25 million more to proposed projects, which could yield up to 750 affordable units.
The city helped fund two affordable housing projects that were completed this year: 1701 W. El Camino Real and 779 East Evelyn Ave. The rentals are marketed to tenants with annual incomes at or below 60% of the area's median income, which in Santa Clara County is $119,035.
The projects are partly funded by Mountain View's housing fund, but they're built by developers such as the nonprofit Palo Alto Housing and ROEM Development Corp.
Randy Tsuda, CEO of Palo Alto Housing, said the city is set to provide $22 million for a project at 950 W. El Camino. The project will contain 71 housing units and market to tenants earning up to 70% of the area median income, according to Palo Alto Housing's website, with 15 units reserved for disabled tenants.
Six projects in the pipeline
Vera Gil, project manager for the city's affordable housing program, said there are six projects in the pipeline that have yet to be approved by City Council. Gil said she couldn't reveal the location of one of the projects because the developer wanted it kept confidential for now.
Projects in this pipeline include:
• a development on La Avenida Street in the North Bayshore neighborhood;
• two projects in the Terra Bella area;
• a development on Lot 12, a downtown parking lot at Byrant and California streets;
• and the VTA's park-and-ride lot on Pioneer Way, for which the city is trying to negotiate a long-term lease in order to build the homes.
The $120 million figure appears in the city's newly released Certified Annual Financial Report that was prepared by outside auditors. The report covers the city's financial activities from July 1, 2018 to June 30, 2019. The Housing Fund figure appears on pages 15 (PDF page 37) and 35 (57) of the auditors' report.