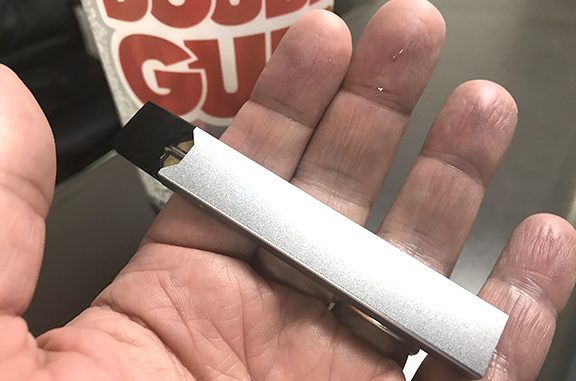 BY EMILY MIBACH AND SARA TABIN
Daily Post Staff Writers
Menlo Park and Palo Alto city councils are working on banning the sale of e-cigarettes in their towns.
Even though the products are only to be sold to adults 21 and over, city officials are concerned about reports that teenagers are vaping in high school restrooms.
The Menlo Park City Council voted unanimously on Tuesday (Dec. 10) to ban the sale of flavored tobacco and e-cigarettes. The ban also prohibits free samples and coupons.
The council also told City Attorney Bill McClure to have the city's planning commission look at banning smoke shops and hookah lounges from opening up in the city.
The council briefly considered banning the home delivery of flavored tobacco and e-cigarettes, but Assistant City Attorney Cara Silver said she was not sure how enforcement would work. So the council dropped the item.
Menlo Park will vote on the ban once more at its meeting on Monday (Dec. 16).
Palo Alto City Council on Monday (Dec. 9) told City Attorney Molly Stump to write up an ordinance banning the sale of e-cigarettes.
Three council members — Adrian Fine, Alison Cormack and Greg Tanaka — wrote a memo to the rest of the council requesting an ordinance that would prevent stores from selling any electronic cigarettes and any nicotine pods or liquids that are used for e-cigarettes.
Teens say two stores sell to youth
In April, members of the Youth Council, local teens who weigh in on city issues, told City Council that there are at least two stores in Palo Alto that illegally sell nicotine products to teenagers.
Santa Clara County's board of supervisors expanded its ban on flavored tobacco products, which some people say are targeted at minors, and banned selling vaping devices this month. The county's ban on selling vaping devices will be phased in as businesses apply to renew their retail licenses. The county's ban, however, only applies to the very few retailers in unincorporated areas of the county.
Supervisor Joe Simitian said during a study session with council on Monday that the county drafted its legislation as a model for cities. Simitian said cities might have less money and time to dedicate to researching and crafting vaping rules on their own, but could pick up language from the county ordinance.
Incrementally banning tobacco products
San Mateo County's board of supervisors has been steadily banning flavored tobacco and vaping devices, with board President Carole Groom saying last month that she is working with Supervisor David Canepa to ban tobacco products incrementally, "so we don't send shockwaves all over the world."
Canepa added that the board may be looking at banning tobacco sales in unincorporated county.
The Palo Alto memo also asks for money to go to the Healthy City Working Group, which would conduct an educational campaign against youth vaping. Fine said he doesn't think a ban alone will work to stop youth vaping.
Councilwoman Lydia Kou also said she wants more information about the environmental impacts of vaping devices when they are thrown away.