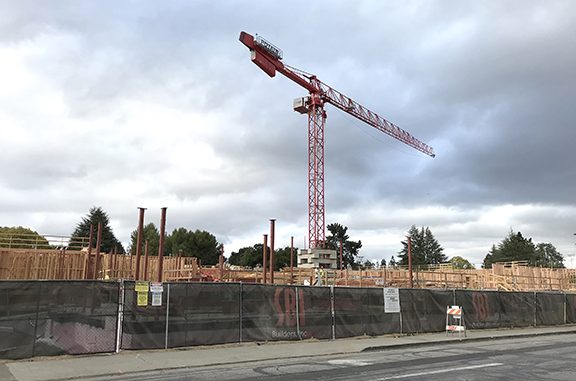 Only a fraction of the stories the Post publishes in its print edition appear on this website, padailypost.com. To get all of the local news, pick up the Post at 1,000 mid-Peninsula locations every morning.
BY SARA TABIN
Daily Post Staff Writer
A giant construction crane — the kind you see in the skylines of major cities — has popped up in Mountain View near the border of Palo Alto.
It's on a construction site at 2700 W. El Camino, next to Lozano's car wash and across the street from the 76 gas station.
Cranes that size are somewhat unusual here. Contractors are using a couple of cranes for Google's new campus east of Highway 101 in Mountain View, and cranes have dotted the skyline of Redwood City for the past couple of years as that city grows upward. In Mountain View, the crane at 2700 W. El Camino is being used to build a five-story, 221-unit apartment building with two levels of underground parking.
Mountain View City Council approved the project by San Ramon-based SummerHill Housing Group in 2017.
New homes by early 2021
SummerHill Managing Director Katia Kamangar, who works out of Palo Alto, said construction began last year and should be done by the spring of 2021. She said apartment leasing will start in the first three months of 2021.
The building will have 11 "very low-income" housing units. People making $30,750 to $51,250 are considered "very low-income" in Santa Clara County. The project also includes a dog park and a 2,000-square-foot ground-floor commercial space. Kamangar said the crane will be up until next summer. It is being used to unload trucks and move building materials.
Having the crane reduces the space needed to unload the trucks which helps decrease the amount of traffic caused by the project, she said.
Large weights hold down crane
Kamangar said the crane is held in place with large weights that extend down two levels through the parking garage.
"Although it looks quite large, this crane is much smaller than cranes used on high rise projects in cities like San Francisco and Oakland," she said in an email to the Post.
The crane is owned and has been erected by Bigge Crane and Rigging Co. and was permitted by California's Occupational Safety and Health Administration.