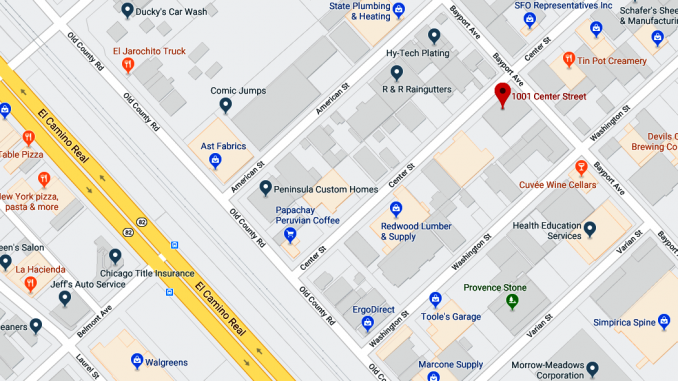 BY EMILY MIBACH
Daily Post Staff Writer
The owner of what will be San Carlos' first cannabis business said he was merely testing his equipment when a strong odor drew a building inspector, a fire marshal, a deputy sheriff and other officials to his building.
Ramin Azodanlou, owner of Azo Tech LLC at 1001 Center St., said he doesn't know what they smelled, but it wasn't marijuana.
And he said he doesn't intend to manufacture any products that will get customers high. Instead he intends to extract from cannabis a substance called cannabidiol, or CBD, which studies have found can help users cope with anxiety, cognition, movement disorders and pain.
"This is not going to be products for the clubs or anything like that. This will be a medicine that won't get you high," Azodanlou said.
Azodanlou has applied for a permit for a marijuana-related business from the city.
Following the April 25 inspection, Azodanlou was written up for violations that include: a lack of safety equipment in a laboratory; illegal storage and use of Hexane, a highly toxic and flammable liquid, and the illegal disposal of a clear liquid into a storm drain. Also, he was admonished because somebody was living on the premises.
Azodanlou said that at the time of the inspection, he was testing equipment at the site to make sure everything is ready once his permit is approved.
As for the person living there? It was just their overnight security guard, Azodanlou said.
Other issues included electrical, building, plumbing and mechanical violations, according to City Manager Jeff Maltbie. The building owner is dealing with those problems, Azodanlou said.
Azodanlou said yesterday he feels like he is in a Catch 22 situation with the city. He said he cannot even get a temporary permit to operate, but he needs to make money to pay the rent.
"Maybe it's because I'm the first one," Azodanlou said.
Azodanlou said he believes his permit will be considered by the city's Zoning Administrator "soon."
However, Economic Development and Housing Manager Martin Romo said that Azodanlou's application is incomplete because some details still need to be submitted to the city.