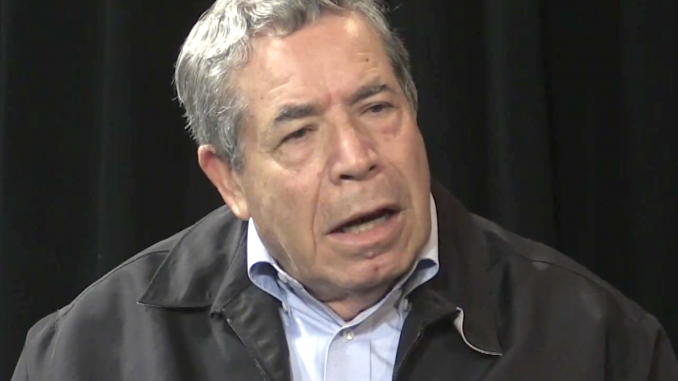 By the Daily Post staff
Job Lopez, who was cited by Mountain View police after he was caught on video spray-painting a campaign sign for council candidate John Inks, has had several letters to the editor published in the Post over the past few years. We're reprinting some of the letters to provide a perspective of his point of view.
Published Aug. 23, 2018
Rent control battle
Dear Editor: The California Apartments Association did not get the 5,500 signatures necessary to put their deceptive initiative in the November ballot to weaken Mountain View's rent control law. But they have not given up. They're now trying to get signatures to qualify the initiative for the 2020 ballot. If you are approached by a CAA paid signature gatherer, don't be fooled! Don't sign! And in the end, the "Mountain View little David," personified by low-income tenants who need affordable housing the most and not unjust evictions, will prevail over the "giant Goliath" personified by many greedy landlords of the CAA who only go by the law of supply and demand.
Job Lopez
Mountain View
Published Oct. 30, 2017
Remove Tom Means
Dear Editor: Tom Means should be immediately removed as a member of the Rental Housing Committee (RHC) of Mountain View. It is outrageous that he wrote, on behalf of the San Mateo County Association of Realtors (SAMCAR), a study opposing rent control in Pacifica similar to the one Mountain View voters approved last November.
Means also wrote an op-ed last November election against Measure V.
Yet after the voters approved the Measure, the city council members who were against Measure V appointed Means a member of the RHC based on his eight-year experience as a former council member.
Since all the city council members, except Lenny Siegel, were against Measure V, they put Means in the RHC to manipulate its spirit.
What Tom Means has done for SAMCAR shows unequivocally that his intention never was to make sure Measure V would work effectively. Now council owes tenants and voters who approved Measure V to immediately remove Means from the RHC. Kick him out now!
Job Lopez
Mountain View
Published May 1, 2017
May Day
Dear Editor: Today, May 1, there will be a peaceful public march in Mountain View to call attention to the urgent need for a comprehensive immigration reform, recognizing and respecting the human dignity of all immigrants. The march will end with a rally at the City Hall Plaza, with several speakers including the mayor and police chief.
The Trump administration has created an environment of fear across the nation. Thousands of immigrant fathers and mothers of children born in this country have been deported under the false argument they are hardcore criminals when in fact their only "crime" is a misdemeanor. With such inhumane and immoral actions, President Trump is grossly violating the constitutional and human rights of the thousands of U.S citizen children by separating them from their parents, forcing them into foster homes or to be taken to a foreign country in detriment of their well being.
The human dignity of each immigrant has to be recognized and respected and our families must be kept together. The voices of all decent human beings and morally conscious civic and religious leaders need to be heard in defense of immigrants. Among those voices should be the ones from Catholic bishops and priests. Shamefully most of them have been silent when they should follow the example of Pope Francis.
Job Lopez
Mountain View
Published Nov. 28, 2016
Rent control measure
Dear Editor: I and many members of the Mountain View Tenants Coalition would like to thank the six Mountain View City Council members who on Nov. 15 voted "yes" to approve an "urgency ordinance." This ordinance will immediately protect Mountain View renters from getting now high rent increases or unjust evictions by greedy landlords before the rent stabilization Measure V goes into effect Dec. 23. Also, we want to thank all members of the city staff who worked hard preparing that urgency ordinance for the council to approve and put it into effect right away.
Measure V will become law on Dec. 23 and it will be a wonderful Christmas present for all Mountain View tenants in need of social justice. Even though the council members have the moral obligation to always work for the common good as public elected servants, it is only fair for us to recognize and praise them when they do the right thing. And this is what I am doing now.
Job Lopez
Mountain View
Published Oct. 21, 2016
Vote for rent control
Dear Editor: The goal of Measure V in Mountain View is rent stabilization and just cause evictions. Over two years, tenants and advocates have attended City Council meetings, asking for an ordinance to stop skyrocketing rents and unjust evictions displacing low-income families. Most of the council members, in spite of having the moral obligation of doing social justice for low-income tenants, did not do so.
Tenants and advocates kept working hard and came up with Measure V. Then, most of the council members arrogantly came up with Measure W to undermine Measure V.
The exodus of low-income working families and others not reaping the fi- nancial benefits of the high-tech boom is fracturing the social fabric of our community.
Schools are losing teachers; small businesses are losing employees because they can't afford the immoral skyrocketing. Landlords find justification for the rent increases by citing the materialistic and greedy laws of "supply and demand," but they ignore the dignity and humanity of the people who have the natural right to live and work in our city.
It's fair to say some landlords are not taking advantage of the law of "supply and demand." But they are only a few. Most apartment buildings are owned by corporations — without heart or soul — wearing only the dress of greediness and worshiping the god of money 24/7.
This is a David-versus-Goliath battle. On Nov. 8, socially conscious voters will make David rise and Goliath fall. Vote "yes" on Measure V.
Job Lopez
Mountain View
Published July 11, 2016
Rent control measure
Dear Editor: I am puzzled by the fact that Mountain View Mayor Pat Showalter is calling for a special city council meeting on Thursday to propose a rent control measure. At this point in time such a proposal does not make sense. At the beginning of this year council had its opportunity to approve an ordinance to stop the high and frequent rent increases and unjust evictions by greedy landlords, but it did not.
As a result the Mountain View Tenants Coalition was literally forced to gather more than 7,000 signatures to put a measure for rent control and justified evictions on the November ballot so we voters will do what the majority of council members shamefully refused to do.
Mayor Showalter signed the petition to put the rent control measure in November and by doing so she showed some support to the coalition's effort. Now by putting a second measure in the November ballot, she is contradicting herself.
The second rent control measure she is proposing if approved, will be a total distraction, will derail the coalition's hard work and will create confusion among the voters in November. "My real desire here is to provide a workable rent-protection program," she has said.
A "rent-protection" for whom? Is she under the pressure of greedy landlords?
Job Lopez
Mountain View
Published Sept. 23, 2015
$30 million home
Dear Editor: In my humble opinion, the fact that Google CFO Ruth Porat bought a historic residence in Palo Alto for $30 million (Post, Friday) just adds insult to injury in view of the current housing crisis that is affecting thousands of people in the Bay Area. Lack of affordable housing, skyrocketing and frequent rent increases and unjust renter evictions are making thousands of people leave this Bay Area.
Innumerable people are really having a hard time paying the rent for a single room, a space in a living room or in a garage because they only make a miserable minimum-wage salary, and many don't even work full time.
While it's true that anyone has the right to live comfortably or in luxury if his or her means allow it, it's also true that spending $30 million just to buy a house while thousands nearby are unable to even put food on their table is not only selfish but morally wrong.
One-third of that $30 million should have been used to buy that house, and the rest could have gone to allieviate the local housing crisis. The 1% has a moral obligation to share its wealth with the 99%.
Job Lopez
Mountain View
Published June 29, 2015
Council's time to act
Dear Editor: The Santa Clara County Supervisors have pledged $14.5 million to save Palo Alto's Buena Vista Mobile Home Park. I hope the Palo Alto City Council will vote to match the amount from the county. Caritas, the nonprofit that will run the park if the purchase goes through, will do its part. Money talks. Perhaps for the first time money talks, saying would have a very positive meaning in the name of social justice for the 400 residents of Buena Vista who belong to the 99% in the opulent city of Palo Alto located in the opulent Silicon Valley. It can not be denied that the opulent 1% needs the poor 99% to survive. We need each other whether we like it or not.
Supervisors Joe Simitian and Dave Cortese are bringing social justice and humanity to the Buena Vista situation, and so should the Palo Alto City Council and the Jisser family, owners of the park. And Facebook, Google, Yahoo and Apple should also pitch in if necessary to buy the land where Buena Vista sits.
Job Lopez
Mountain View
Published March 16, 2015
Ignoring 'little sheep'
Dear Editor: Now that the auxiliary Catholic bishop of the Diocese of San Jose Thomas Anthony Daly has been appointed as Bishop of Spokane, Wash., I hope Pope Francis will replace Bishop Thomas A. Daly with one willing to go to the peripheries, and is bilingual (English-Spanish) since about 40% of the Catholics in the Dioceses of San Jose speak Spanish as their native language. When Bishop Daly visited Saint Joseph parish in Mountain View in March of 2013 I met him, thanked him for his visit to Saint Joseph's, and handed him a personal letter asking him to publicly support Comprehensive Immigration Reform which at the time was being debated in the U.S. Senate. I never heard from him. Last year I learned from another high diocesan official that it's their policy not to answer letters from parishioners. In other words they ignore the voiceless "little sheep" in their flock.
Job Lopez
Mountain View
Published Dec. 15, 2014
Terrific tree lighting
Dear Editor: The Christmas tree lighting ceremony last Monday evening at the Mountain
View Civic Center was a beautiful event. More than 1,500 people were there. Looking at dozens of children dressed in Christmas costumes happily running around accompanied by their parents was, in essence, breathing in the air the spirit and meaning of the holiday season. The awaited moment came when thousands of lights on the giant Christmas tree were turned on to the joy of all. On the south side of the plaza serving punch and cookies was Michelle Peterson from the city Community Services Agency being helped by volunteer students from Cupertino High School.
The mayor of Mountain View and a City Council member took the microphone to address the crowd. It was emotional to see how the ethnically and culturally diverse community was addressed by its government representatives under the spirit of the holiday season.
Several choirs with a mixture of senior citizens, teenagers and young boys and girls all dressed according to the occasion performed, singing the classical Christmas carols. Listening to the angelic voices of boys and girls was something unique. On another side there was specially installed snow for the kids to pretend they were skiing. The weather was perfect for the occasion: No rain and and unusually warm for this time of the year. Thanks a lot to all the performing groups, the Community Services Agency and all the volunteers for such a wonderful evening. Merry Christmas to all!
Job Lopez
Mountain View