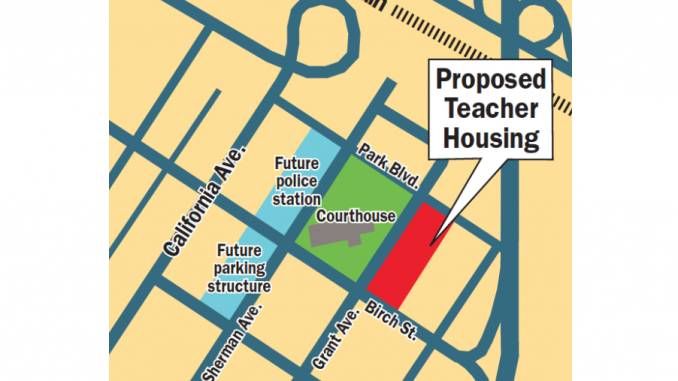 BY ALLISON LEVITSKY
Daily Post Staff Writer
Santa Clara County supervisors voted unanimously yesterday (Jan. 23) to usher ahead a plan to house public schoolteachers on a 1.5-acre plot of county-owned land across the street from the Palo Alto courthouse.
"This is an idea that has been rolling around in my head and my office for the last couple years," Board of Supervisors President Joe Simitian of Palo Alto said at the meeting. "There's an opportunity for us to not just do a good thing for a particular part of the county, but to explore some new models."
The lot at 231 Grant Ave. could fit between 60 and 120 apartments, according to Simitian's proposal. The site is currently home to a modest 8,000-square-foot building that houses nonprofits and part of the public defender's office.
Simitian said that he had been in touch with the public defender's office, and that all of the groups would be moved elsewhere.
The parking lot on the site would be replaced and supplemented with a new parking structure at the courthouse, across the street at 270 Grant Ave., Simitian said.
The total amount of parking in the neighborhood would increase, benefiting the courthouse as well as the California Avenue business district.
The county will seek to partner with area school districts, the city of Palo Alto and other agencies who might be willing to share the costs of construction.
The superintendents of the Palo Alto, Mountain View Whisman, Mountain View Los Altos and Los Altos school districts and the chancellor of the Foothill-De Anza Community College District have already expressed interest, Simitian said.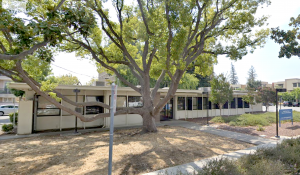 Palo Alto Mayor Liz Kniss is supporting the plan. Both Kniss and Simitian are former Palo Alto school board trustees, and Simitian grew up in Palo Alto as a teacher's son.
"I think we all know that these housing challenges are regional," Simitian said. "Particularly those of us who represent smaller, suburban communities — the boundaries between neighboring school districts and cities are somewhat artificial when it comes to a conversation about housing choices and also impacts on traffic," Simitian said.
Palo Alto school board trustee Terry Godfrey, Palo Alto Educators Association President Teri Baldwin, Bay Area Forward Executive Director Maya Perkins and SV@Home Policy Manager Mathew Reed all spoke in support of the proposal.
Reed pointed out that an elementary school teacher earning a median income of $67,760 would spend more than 65% of his or her income on rent to afford the median price of more than $3,600 a month. Median home prices in Palo Alto surpass $2.7 million.
On Thursday, the Mountain View Whisman school board discussed the idea of building subsidized teacher housing on one of its shuttered school campuses.
The district's plan could include both below-market-rate apartments, from studios to two-bedrooms, and a few dozen single-family homes for teachers to buy with a down-payment assistance program.
Unaffordable housing has been largely blamed for teachers leaving local school districts. Mountain View Whisman alone filled 55 positions last year, according to Simitian's office.
Only about 1% of housing built in the county since 2015 has been built for the "missing middle," middle-class workers who can't afford market-rate homes but earn too much to qualify for affordable housing, according to Sarah Chaffin, founder of SupportTeacherHousing.org.