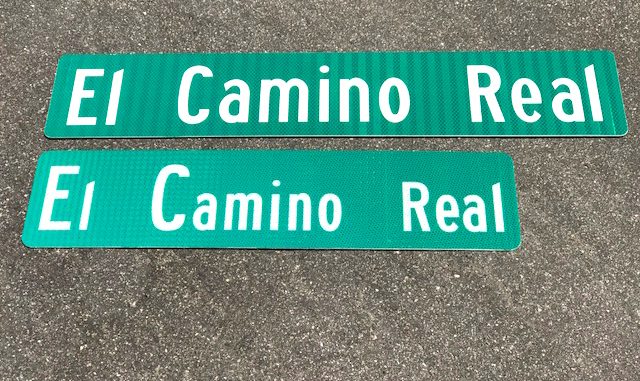 SIGN PROBLEM — The bottom sign is one San Carlos currently uses. The top sign is a new one that will be replaced because of two problems. First, the lowercase letters aren't 41/2 inches tall, as required by federal rules, and the spacing between some letters isn't consistent. Note the space between the "e" and "a" in Real on the top sign. Photo provided by the city.
BY EMILY MIBACH
Daily Post Staff Writer
After a snafu with a sign company, San Carlos officials must replace letters on recently ordered street signs after some residents complained they were "illegible."
Lorene Lederer, who noticed that the signs were not fully compliant with state and federal regulations, said it is clear whoever made the signs "doesn't know the basics of typography."
Lederer said many of the new street signs put up in the White Oaks neighborhood in south San Carlos had spacing issues and that the lower case letters are too small.
According to the U.S. Department of Transportation, letters on street signs must be at least 6 inches tall for upper case letters and 4.5 inches tall for lower case letters.
The public works employee who was reviewing the proofs of the signs before they were sent to the city and put up missed the mistakes, City Manager Jeff Maltbie said.
After the signs were put up, Lederer posted on Nextdoor an item titled "New street signs: ANOTHER FAIL from SAN CARLOS CITY COUNCIL" and wrote an email to the council and Maltbie, which brought the lettering issue to the attention of city officials.
Avoiding litigation
Getting the new street signs was so the city would meet state regulations and protect itself in lawsuits, Maltbie said. He said the new signs are more reflective and are supposed to be more visible to drivers.
Maltbie said because of the mistake from both the sign company and the city, they are splitting the $5,000 cost to order new letter stickers for the signs so they will be up to state regulation. Maltbie said the city originally spent about $10,000 ordering the new signs.
He said it will take about a month for the signs to get fixed and be installed.
"It's unfortunate, but these things happen and it's an easy fix," Maltbie said.
Not supposed to be an eye test
Public Works Director Jay Walter posted on Nextdoor Wednesday that over the next month the city will be replacing the signs. In response, resident Edward Tang wrote to the city council, Walter and Maltbie to say the city shouldn't be replacing the signs at all.
"Street signs are designed to aid drivers, not (be) an eye or IQ test," Tang wrote, saying he liked the all caps signs.
However, some residents, such as David Thom, like the signs, saying that they're clean and readable.