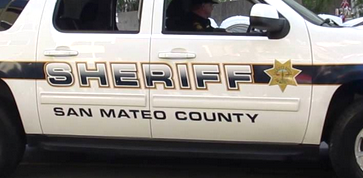 BY EMILY MIBACH
Daily Post Staff Writer
A jury has awarded $1.1 million to a man who, while he was looking for a lost cat, was bitten repeatedly by a San Mateo County Sheriff's dog.
The U.S. District Court jury in San Francisco on Tuesday (June 13) found Deputy Chris Laughlin used "excessive force" when he ordered his German shepherd to attack Richard May, 64, in a fenced construction site in Half Moon Bay where he and his neighbor were retrieving her cat on Jan. 1, 2015.
Michael Haddad, May's attorney who specializes in police misconduct cases, said yesterday the verdict appears to be part of a trend in which jurors are more critical of questionable actions by police. The change is happening because of a series of cases nationally in which police officers have been convicted of misconduct. Those cases have drawn protests from groups like Black Lives Matter.
"I think all the media reports about police acting badly has opened people's minds to the idea police misconduct can happen," Haddad said.
On Thursday, May testified that the bites by the dog were "extremely painful" and he was taken to the hospital.
"I was scratching and screaming. I was trying to escape in my mind. I couldn't believe what was going on," May testified.
Climbed a 7-foot fence
Laughlin and two other deputies were responding to a report of a possible burglary. May said that he and his neighbor used a stool to get over the 7-foot fence and climbed up the scaffolding of an unfinished building to retrieve the neighbor's black-and-white cat, Domino.
The county said that the deputy used the dog only after Deputy Laughlin ordered May to show his hands and drop to the ground and May instead remained standing in the shadows. They claim the deputy's actions were reasonable because Laughlin believed May might have been conducting a commercial burglary and might have a weapon.
May said he posed no threat and didn't hear any announcement from Laughlin until after Riggs started biting.
The jury determined that Laughlin used "excessive force" and acted with "malice or oppression or in reckless disregard to the rights of Richard May."
The jury awarded May $1 million in damages and $100,000 in punitive damages. Punitive damages are intended to punish a defendant and deter such conduct in the future.
The jury had deliberated for a few hours on Monday and around 3 p.m. Tuesday announced its verdict.
Jury deadlocked at one point
San Mateo County Counsel John Beiers said part of the reason why he was surprised by the jury's verdict is because on Monday the jury was initially "deadlocked." But Magistrate Judge Laurel Beeler told the jury to continue deliberating. The jury reached its verdict around 3 p.m. Tuesday.
Beiers said he still believes that Laughlin's actions were justified.
"He believed a felony commercial burglary was in process, in the dark. Mr. May was not responding to commands and was reaching toward his pockets," Beiers said. "(Laughlin's actions) were reasonable under those circumstances."
Beiers said it is "quite possible" the county may appeal the verdict, but he is still reviewing the county's options.