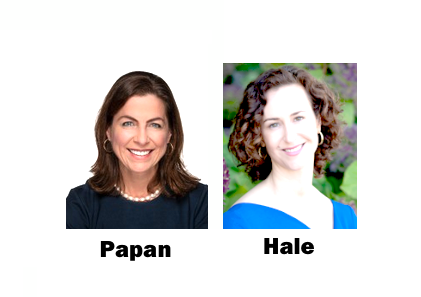 BY EMILY MIBACH
Daily Post Staff Writer
Redwood City Mayor Giselle Hale unexpectedly announced yesterday she is dropping out of the state Assembly race, saying she wants to protect her two daughters from attack ads. The move makes San Mateo City Councilwoman Diane Papan the next Assemblywoman, replacing Kevin Mullin.
Hale was facing an uphill battle, having come second in the seven-candidate primary to Papan with 19.8% of the vote compared to Papan's 41%. The top two automatically move on to the November general election. That race was expected to be hotly contested, with two Democrats duking it out for a rare open seat in Sacramento.
Hale, in a statement released yesterday, said her decision to drop out of the race comes after her family took a vacation and she realized how "deeply" her campaign for Assembly had "impacted the mental health and happiness" of her husband and two daughters. Hale said that her 5-year-old regularly saw attack ads featuring Hale while watching a YouTube kids show. A classmate of her 8-year-old brought in a mailer featuring Hale.
Some of the ads featured Hale and Meta CEO Mark Zuckerberg. Hale worked for Facebook for eight years.
Others featured Hale and former President Trump, because she tried out for "The Apprentice" in 2005. Hale was 26 then and one of 500 who auditioned for the show with her business school classmates.
"The decision to end this campaign will be perceived in many ways by many people, but it comes down to choosing the three most influential people in my life," Hale said in a statement.
Political committees put out mailers
The mailers in the campaign became prominent when various independent expenditures, or IEs, took a liking to Papan and ended up supporting her with over $1 million during the primary.
One IE that is funded by a series of political action committees, including a PAC in favor of charter schools, the prison officer's PAC, Pharmaceutical Research and Manufacturers of America PAC, the California Apartment Association and the California Hospital Association.
The Future PAC also gets donations from another PAC called Californians for Jobs and a Strong Economy. That PAC has many donors, including Fox Cable Network Services, AT&T, Amgen, In-N-Out Burger, PG&E, Valero and Chevron.
On the surface, Papan and Hale appear to be similar candidates, both saying they support housing and ways to combat climate change.
Hale ran as a more progressive candidate, and touted her experience in Redwood City both on the planning commission and city council, approving more housing than anyone else seeking the seat. The city's draft housing element states the city has approved 1,406 homes across seven projects.
Hale is an advocate of child care and education funding. During the peak of Covid, she worked with other child care advocates to create the Childcare Relief Fund, which provided $5 million in funding to keep 340 child care providers open. She supported lot split bill SB9 and SB10, which lets housing developments of 10 units or less be approved without a public hearing or council approval. She was endorsed by SB10's author, Sen. Scott Wiener, D-San Francisco.
Meanwhile, Papan did not take a position on SB9. She did tout some of the housing projects that were approved during her tenure on the San Mateo City Council. Papan's the daughter of the late Lou Papan, who served in the Assembly from 1973-1986 and again from 1996-2002.
Papan called herself a problem solver who can find the "sweet spot" needed to move the needle on issues.
Papan's reaction
When asked about her opponent's withdrawal from the campaign, Papan responded with a statement thanking all of the candidates who ran in the primary.
"There is significant, essential work to be done in these challenging times. Now is the time to unify and work together in the fight to pass California's Proposition 1 to protect abortion and access to contraceptives; protect all Californians against the dangers of wildfire and drought; and invest in new housing. I am ready for the fight ahead in service to the residents and families in (Assembly District) 21," Papan said.