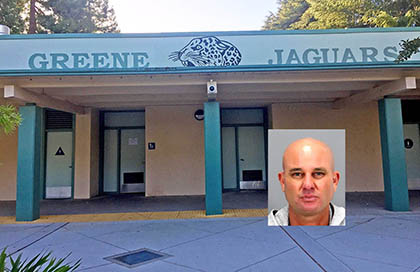 BY BRADEN CARTWRIGHT
Daily Post Staff Writer
A PE teacher who allegedly raped an 11-year-old girl in a locker room at Greene Middle School — before she was old enough to understand or articulate what happened — led his victim to use drugs, become depressed and carry life-long trauma, according to a police report used to file charges against him.
Peter Colombo, 55, went to the police station on his own initiative after the victim's husband sent both him and the school district an email calling him out in January. Colombo told an officer that he was the victim of "cyberbullying," and he wanted police to intervene.
Colombo was arrested on June 15 for the alleged rape, which the victim said occurred in 2001. He was released from jail on Tuesday on house arrest and $250,000 bail, prosecutors said.
The following information comes from a police report by Officer Yolanda Franco-Clausen, who was assigned to the investigation. Her report was used to file charges against Colombo and contains only allegations at this point. It contains only first names of the victim and the people who corroborated her allegations.
The investigation began on Jan. 28, when the victim's husband sent an anonymous email to officials at the Palo Alto Unified School District.
"Mr. Colombo's name has haunted my wife for two decades," he said. "She's an extremely resilient person, but she has struggled with this reality since childhood and will likely be in therapy dealing with it for the rest of her life."
The husband said he wasn't looking for legal recourse, but he wanted the district to confront Colombo and ensure there weren't more victims.
"To my knowledge, no consequences have ever come to Peter for his actions since this event, and he continues to be a celebrated member of this school district," Ryan wrote.
The school district's lawyer, Komey Vishakan, forwarded the email to police, and Colombo was placed on paid leave from his job as a PE teacher and coach.
Confrontation called 'cyberstalking'
Before Franco-Clausen could contact the victim, Colombo came to the police department himself. He said he and his wife were contacted on LinkedIn with an anonymous message, which was similar to the one sent to the school district. He said the message was a "form of cyberstalking."
Colombo told Franco-Clausen that he was having a difficult time in his personal life during the 2001-2002 school year. He said he "may have been an alcoholic and a womanizer," but he was not a "child abuser," the police report says.
Since then, Colombo said he turned his life around. He goes to Alcoholics Anonymous meetings and is happily married, the police report says.
After Colombo left, Franco-Clausen responded to the anonymous email, and she learned the name of the victim on Feb. 4.
The victim, now in her 30s, said she was hesitant to come forward but decided it was time. She said she recently became a mother and wanted to reconcile her past trauma for both herself and her family.
The victim said her memory of the assault was fractured because she had been suppressing it for a long time.
Her life changed
"She stated that everything changed after this incident and was the cause of self-medication and drug and alcohol use at a very young age," the police report says.
The victim and her older sister both attended Terman (now Greene) Middle School in 2001. She said she had straight A's, performed well in sports and was part of clubs. She swam on a competitive swim team, and she had a strong social life.
"The victim advised me of all of her prior activities and strengths because she wanted to express the terrible impact the assault had on her life, which truly changed the trajectory of her life," the police report says.
The victim didn't know the exact day or month the assault happened. She did remember her two primary core teachers, and that Colombo was her PE teacher in the class before lunch.
The victim said she liked Colombo because he was always smiling, but some of his actions stood out in her memory that made her uncomfortable prior to the assault.
For example, Colombo once offered to take her to his house to make her lunch. When she said no, he offered to buy her pizza, the report says.
The victim said she was so uncomfortable that she said, "I don't like food" and walked away quickly, the report says.
Locker room walk through
The victim also said that Colombo would walk through the girls' locker room and yell, "Girls, a guy is coming through, close your eyes!"
She said this was weird because he was telling the students to close their eyes, when he was an adult male.
Before the victim talked about the assault, she described a mural in the girls' locker room that had clouds and a girl painted inside one of the clouds. The girl was a former student, and the victim said she stared at the mural while she was assaulted.
The day of the assault, students in PE were practicing swimming. Colombo asked her to stay after to help with the pool cover, and she did because he would let her run across the cover afterwards. Her coaches didn't let her do that, and she said it was fun.
When the victim returned to the locker room, she said everyone was gone. She started changing out of her swimsuit to go to lunch when she felt someone behind her.
She said she knew it was Colombo.
"Based on her age and lack of understanding about sex and sexuality, she did not know what was happening," the report says.
Through tears, the victim recalled the event: She was pushed down on a bench on her stomach. Then, Colombo penetrated her and pushed his body back and forth on her.
"I remember more of the fear and feeling than anything," she said. "I remember feeling like I was breaking."
She said she didn't remember how long the assault took, or how it ended.
Looking back as an adult, the victim said she now knows that Colombo was having intercourse with her.
When the victim got home, she told her mom she wanted to get Colombo fired because he was too nice to her. She didn't explain what had happened to her.
"She changed that day and has been suffering since," the police report says.
The family moved to Walnut Creek shortly after the assault.
There, the victim said she started experiencing major depression, drinking and doing drugs.
According to the report, Franco-Clausen has talked to other people who the victim had told about what happened. They all corroborated her story, and the victim's sister had messages from 2009 that talked about what happened, the report says.
She told other people, including her ex-boyfriend, two of her friends and her sister, about what happened, the police report says.
On March 22, Colombo again asked to meet with Franco-Clausen, and he brought his wife. He said he didn't have anything to hide, and he was restless to return to work.
Franco-Clausen had a yearbook from 2002 in the interview room, and Colombo went through the pages of the sixth-grade class. He made comments about the majority of students and in some cases knew their family.
When Colombo passed the victim's image, he didn't mention her. Franco-Clausen said he appeared to rush past her portion of the class.
When Franco-Clausen asked if he remembered the victim, he said he had no memory at all.
Colombo did say students helped him with the pool cover, and he allowed them to run across. But he said the victim must be lying because it took multiple students to pull the covers over.
"Although Colombo did not remember the victim, he wanted to 'get the girl help,'" the police report says.
He said that since he now knew the victim's name now, he was tempted to contact her but wouldn't do so. The interview ended, and