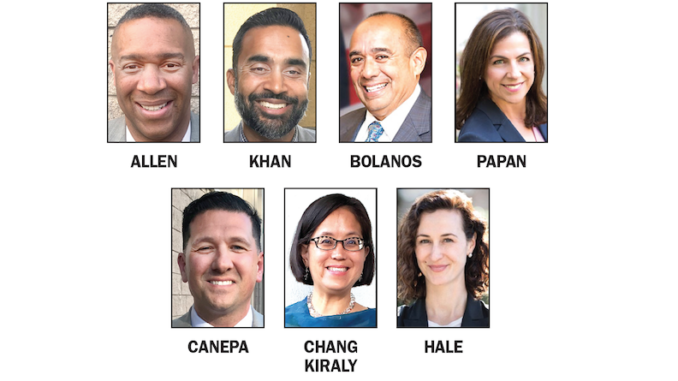 Daily Post Editorial
The following are the editorial page recommendations of the Daily Post for the June 5 primary. We're printing them today because the ballots are hitting the mail now, a month early.
Our advice, as always, is to wait to return your ballot so that you can watch the campaigns unfold. If you were on a jury, you wouldn't hand in a verdict halfway through the trial and go home. You'd wait for the case to play out.
Think of an election like a trial for the candidates. The candidates will throw out allegations against one another. If the allegations are lies, it will discredit the dishonest candidate. If the allegations are truthful, that will change votes. Wait and pay attention. The interesting stuff is yet to come.
Santa Clara County Sheriff: Allen
Santa Clara County residents will have a chance to re-shape law enforcement by voting for sheriff and district attorney.
Longtime Sheriff Laurie Smith, facing civil charges of bribery for giving gun permits to campaign contributors, isn't running for another term.
The sheriff's office is in disarray. In addition to the corruption allegations, she's accused of mismanaging the jail, which has resulted in settlements in three lawsuits in which inmates were either killed or severely injured.
The sheriff's office needs a housecleaning, and that's why we're recommending sheriff's Sgt. Sean Allen.
He was wrongfully arrested and jailed for four days when he was 19. Not long after, he joined the very sheriff's department that had jailed him. He didn't have a chip on his shoulder; he wanted to make things better.
We think it's about time that somebody who was mistreated by cops gets a chance at running a law enforcement organization.
Allen won't put up the with the status quo. In his 32 years in the sheriff's office, he has called out racial discrimination and mistreatment of gays. That may be the reason why Sheriff Smith never promoted him beyond sergeant despite a well rounded career that's taken him to every division of the sheriff's office.
A purge of the bad apples is long overdue in the sheriff's department, and Allen said in an interview that he would fire four top sheriff's officials. Then he stopped himself, perhaps realizing how personnel laws work in California, and said he would demote them to jobs where they couldn't cause any harm.
Our second choice in the sheriff's race is retired Capt. Kevin Jensen, who worked for 28 years in the sheriff's office until retiring and then running against Laurie Smith in 2014, getting 41% of the vote.
He too says he would change the culture of the sheriff's office, conducting a thorough investigation of past wrongdoing.
Jensen is likely to be the top vote-getter in the primary, based on how much money he's raised and familiarity voters might have gained of him in his last campaign. He certainly is qualified to be sheriff. But we give the edge to Allen, who we think will be more aggressive in cleaning up the department.
We can't recommend Palo Alto Police Chief Robert Jonsen for two reasons.
During his watch, there have been alarming brutality incidents. He's currently a defendant in a civil suit brought by a man who was beaten by a police officer outside of Happy Donuts (in his capacity as police chief, not as a participant in the beating). How can somebody being sued in one department expect to lead another department?
Secondly, Jonsen has reduced transparency of the police department. Reporters can no longer talk directly to officers to get information, they must use an internet portal. Worse, Jonsen encrypted the police radios, preventing the public and media from hearing vital public safety information.
Jonsen justified his decision by citing a memo from a state agency that said encryption was one option for police departments. The other was to keep the radio frequencies public but find a way to protect personally identifiable information from being heard.
Menlo Park, the CHP and the San Mateo County Sheriff are among the agencies that upheld the public's right to know by keeping their frequencies open to the public. Jonsen's extreme reaction has prompted legislation to ban police radio encryption.
We need a sheriff who believes in the public's right to know.
District Attorney: Khan
The other major race in Santa Clara County is for district attorney, the official who takes police cases and prosecutes them. Jeff Rosen is facing two opponents, alternate public defender Sajid Khan and Daniel Chung, a former deputy DA who was fired by Rosen after writing a critical op-ed.
If you believe that we need leniency for criminals, then you have no choice in this race. All three are on the left of the political spectrum, favoring rehabilitation over incarceration.
We've given up on Rosen because he rarely charges police officers who engage in illegal activities. We're not anti-cop. In fact this newspaper has called for higher salaries for police. But good police officers want the law-breaking cops rooted out because it discredits their profession.
During our interview with Rosen, we asked why he didn't file charges against the Mountain View police officers, county social worker and paramedic who, according to a settled civil suit, forced a 5-year-old girl's leggings off to examine her body for signs of sexual abuse as the girl's father reluctantly held her down in the family's home.
The city, county and ambulance company paid a total of $600,000 to settle the case and avoid a trial.
Rosen said in an interview last month that he hadn't heard about the case.
That's odd because in 2020, Rosen's office spokesman said that nobody would be charged because the DA hadn't received any complaints.
So we have a 5-year-old girl who hadn't been violated by her father, but was violated by these officers, and the DA isn't aware of it.
Then we have the case of now-retired Palo Alto police sergeant Wayne Benitez, nicknamed "The Fuse," who went off and was caught on video slamming the face of a handcuffed arrestee against the windshield of a car in 2018 and then mocked him for being gay.
Residents had to badger Rosen into bringing charges against Benitez. Meanwhile, the city paid $572,000 to the arrestee, Gustavo Alvarez, and had Benitez apologize.
Rosen had a year to bring felony charges against Benitez but missed the deadline. When he finally charged Benitez, he hit him with two misdemeanors — assault under color of authority and lying on a police report. The case has yet to go to trial.
If the roles were reversed, and Alvarez had attacked Benitez this way, there's little doubt Alvarez would have been hit with felony charges.
The bottom line is that Rosen let a cop slide on a felony and now is prosecuting him for a misdemeanor, the same level of an offense as a DUI.
This sends a terrible message to other police officers — that they can get out of line and face minimal consequences.
Rosen has had 12 years. It's time to give somebody else a chance at DA to see if he can do better. Khan is our choice because he knows how the system works, has demonstrated that he can be fair to both defendants and the police, and won't put up with law-breaking by bad cops.
San Mateo County Sheriff: Bolanos
San Mateo County Sheriff Carlos Bolanos is facing a challenger who works for him, Capt. Christina Corpus, who heads the department's Millbrae office.
In our interview, Corpus didn't offer much of a reason why anybody should vote for her — she repeatedly said that she would have an open door and people would know who their sheriff is. That's not much. It certainly isn't a competing vision.
The one issue that has come up is that the sheriff was too closely cooperating with ICE by contacting the immigration agency when a prisoner they wanted was to be released from his jail. Bolanos heard the complaint and changed his policy. That shows he's responsive to the public.
Bolanos should be re-elected because of his wealth of experience, solid leadership skills and his responsiveness to the public. He doesn't hide information. And he's pledged to keep his department's main radio dispatch frequency un-encrypted unless required to do otherwise by law.
Congress: Canepa
Several candidates are running in the June 7 primary to replace Jackie Speier, who is retiring from Congress. The best choice is David Canepa, currently a member of the county board of Supervisors.
The Democratic Party establishment has lined up behind Assembly Kevin Mullin, the son of the late Assemblyman Gene Mullin. Mullin has Speier's endorsement along with a long list of political insiders.
Canepa, on the other hand, grew up in a hardscrabble Daly City neighborhood, his father a chauffeur and his mother a bank manager. He's not a polished politician who has memorized a carefully written script. He's a scrappy, roll-up-your-sleeves-and-get-it-done kind of guy, who isn't afraid to step on toes to help his constituents.
Early in 2021 it was obvious that East Palo Alto residents were suffering because of a lack of Covid testing. Canepa, along with state Sen. Josh Becker and EPA Councilman Antonio Lopez, started pushing to get state and federal authorities to send more Covid tests to EPA to help a community that had a Covid rate eight times that of neighboring Palo Alto.
By doing so, Canepa was stepping into the county supervisor district of Warren Slocum. Going into another supervisor's district is considered a political faux pas. But Canepa didn't care.
Canepa, a staunch Democrat, will stir things up in Washington. That's exactly what Congress and the Democratic Party needs. Hands down, Canepa's the best choice for Congress.
Assembly: Papan and Hale
Seven candidates are running for the Assembly seat Kevin Mullin will be abandoning to run for Congress. We couldn't narrow the list down to one recommendation, so we're picking two — Diane Papan and Giselle Hale.
The redrawn Assembly District 21 encompasses eastern San Mateo County and includes Belmont, Burlingame, East Palo Alto, Foster City, Millbrae, Redwood City, San Bruno, San Carlos, San Mateo and portions of South San Francisco.
Papan is on the San Mateo City Council and Hale on the Redwood City Council. Hale is currently mayor in her city, Papan was previously mayor in San Mateo. Both are Democrats.
Both have solid records at paving the way to get more housing built in their respective cities. At the same time, both are attuned to the concerns of homeowners. Each also has well thought-out plans to deal with homelessness and other issues of concern.
Unless one of the seven candidates gets more than 50% of the vote, the top two will compete in November. We hope the top two are Papan and Hale.
Supervisor: Chang Kiraly
The San Mateo County Board of Supervisors is one of those panels people don't think much about until there's a scandal. Like a few years ago, when a sales tax increase called Measure K, which was supposed to go partially to housing, instead paid for new county office buildings. Then, earlier this year, there was the scandal over the $10 million in personal protective equipment, or PPE, that was left outside in the rain at the county Event Center.
The coverup was worse than the crime. The county tried to mislead people about the dollar amount of the PPE damaged and failed to identify who was responsible for this fiasco. Now, we have the county working largely behind closed doors to cook up a new parcel tax with the help of a $835,000 political consultant.
The five-member county Board of Supervisors needs a shakeup. But in this election, the voters can only put one person on the board. Of the four candidates running to replace the retiring Don Horsley on the board, Virginia Chang Kiraly is the right person at the right time.
She has strong credentials when it comes to good government, which was evident from her service on the Menlo Park Fire Protection District board. She was then asked to serve on the San Mateo County Harbor District board, which was a dumpster fire of ethics violations and corruption. Remember all that craziness? You don't read much about the Harbor District in the papers anymore because Chang Kiraly succeeded in cleaning up that organization, and she'll do the same in the county government.
As for that tax the county is cooking up, Chang Kiraly was absolutely clear when we first asked her about it in March. She was against it, particularly at a time when inflation is at a 40-year high and gas prices are pushing $6 a gallon.
Her main rival, Menlo Park Councilman Ray Mueller, wasn't sure what position he'd take, saying he'd want to hear from voters. His response came off as wishy-washy.
And that's a shame because we've admired Mueller's service on council over the years. He's a problem-solver who often is the voice of sanity on the council.
The other two candidates, union official Steven Booker and San Carlos Councilwoman Laura Parmer-Lohan, aren't on the same tier as Chang Kiraly and Mueller when it comes to experience in elected office.
The ideal outcome in the primary would be for Chang Kiraly and Mueller to emerge as the top two vote-getters and move on to compete in the November general election, where they would have more opportunities to inform the voters on their positions.