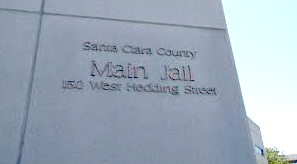 BY BRADEN CARTWRIGHT
Daily Post Staff Writer
An Indian jail officer is suing Santa Clara County because a sergeant allegedly called her a cockroach and a captain denied her a promotion, saying she was psychologically unstable.
Suzana Hosin, 65, said she has been trying to get a deputy badge since 2012 and has watched as younger, white males were promoted instead.
Hosin said Capt. Chris Grumbos told her that she failed a psychological exam twice in 2012 and 2014, but he wouldn't show her the results or give her another test.
County Spokeswoman Maria Leticia-Gomez said Friday the county doesn't comment on personnel matters or pending litigation.
Several suits over jail
Hosin's lawsuit is the latest in a long list of legal actions taken against the county for its management of the jail. Families of inmates who died or were seriously injured in custody have received multi-million dollar settlements, and employees have received payouts too.
Three of the candidates in the race to replace Sheriff Laurie Smith — retired Capt. Kevin Jensen, Sgt. Sean Allen and Sgt. Christine Nagaye — have spent the majority of their careers in the jail. They all agree that the culture in the jail is one of favoritism, corruption and a lack of accountability, with those in Smith's corner getting preferential treatment.
Allen sued the county for discrimination in 2014 along with two female officers, and they received an $800,000 settlement.
Hosin filed her lawsuit in February after getting permission to sue from the Department of Fair Employment and Housing, which considers discrimination complaints before they can become lawsuits.
Hosin said she started working full time as a correctional officer in 1993. The Sheriff's Office took over the jail from the Department of Corrections in 2011, allowing correctional officers to become deputies.
Deputies are allowed to carry a gun, while correctional officers carry pepper spray only. Deputies also can get more benefits and special assignments.
She claims she was stonewalled
Hosin said she has never understood why she was deemed "psychologically unstable." When she asked Grumbos, he repeatedly said he didn't have her evaluation. House kept asking to see the record or to retake the test for nine years, while other correctional officers who failed were promoted, she said.
"Her requests were unabated and continuous but met with stonewalling and refusal to respond," Hosin's lawsuit says.
Hosin asks why she is given the powers of a correctional officer if she is indeed unstable. She said the sheriff's office manipulates the exam process to give white men a better chance at becoming supervisors.
"The system is rigged against Asian females, in favor of Caucasian males," she said.
Hosin is also suing the county over her relationship with Sgt. Danit Bismanvosky, who "was verbally abusive," the lawsuit says.
Hosin said that Bismanvosky accused her of taking mops and alluded to her house being dirty. When Hosin complained to another and said an apology would put the matter to rest, Bismanvosky stood by her remarks, the lawsuit says.
Cockroach remark
Shortly after Hosin's complaint, an officer reported cockroaches in the refrigerator on the seventh floor. Bismanovsky called Hosin and said "someone is bringing cockroaches from home."
Hosin compared the innuendo to language used in the Holocaust and the Rwandan genocide.
"This vile comment by Bismanovsky is reminiscent of Germany with the rise of Nazi's to power," the lawsuit says.
Hosin's lawyer, Brian Barnet Miller, had a phone call with county lawyers on April 18, and they agreed they needed more time to research the issues raised in the lawsuit. The next scheduled court hearing is on July 5.