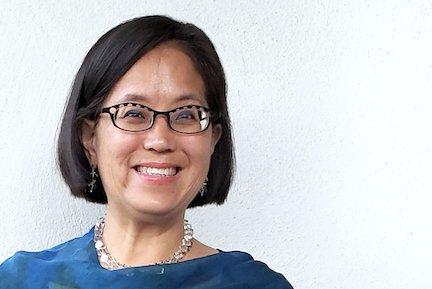 BY EMILY MIBACH
Daily Post Staff Writer
San Mateo County Supervisor candidate Virginia Chang Kiraly wants to cut frivolous spending by the county and opposes a possible parcel tax that might appear on the November ballot.
Chang Kiraly, 58, who serves on two elected boards — the Menlo Park Fire Board and San Mateo County Harbor Board — said she's tired of seeing the public's money being "taken for granted."
For instance, Chang Kiraly wants to get rid of the $750,000 per year each county supervisor gets of Measure K money to spend on issues, nonprofits, projects or events, related to their districts. Measure K is a half-cent sales tax voters approved in 2016.
Chang Kiraly said there is much more the supervisors can be doing with the money instead. She suggested using the $5 million for a water rescue program off the coast.
She also decried the fact that the county is exploring a parcel tax to battle sea level rise and fire risk. Chang Kiraly pointed out that residents are already paying taxes for special districts, such the two where she's on the board, which are already doing work to protect against sea level rise or fire risk.
Chang Kiraly added that special districts are often overlooked and not brought to the table when issues are being discussed. She pointed to the One Shoreline undertaking, a new government agency aimed at sea level rise protection for San Mateo County, and said that the Harbor District was not brought in to discuss the plan, even though it runs two harbors along the county's coast.
Chang Kiraly says she would bring a different viewpoint to the county Board of Supervisors because of her experience on the Menlo Park fire and county Harbor District boards.
Harbor District board discord
The Harbor District has been in the headlines for years because of infighting on its board of directors. But that's ended and now, she says, the district is the "success story of San Mateo County."
She said with the current majority, the district has been able to manage its money well and get big projects done, such as the "living shoreline project" at Pillar Point Harbor, which is aimed at restoring the beach, improving drainage and fight erosion from sea level rise.
Chang Kiraly is one of four candidates running to take the seat currently held by Don Horsley on the Board of Supervisors. Horsley cannot run again because of term limits. His district includes San Carlos, Atherton, Woodside, Portola Valley, Pacifica, Half Moon Bay and parts of Menlo Park and Belmont.
Also seeking Horsley's seat is San Carlos Mayor Laura Parmer-Lohan, Menlo Park Councilman Ray Mueller and Steven Booker, a Half Moon Bay resident and political director for IBEW 617.
The Post is publishing articles after interviewing candidates for the various races on the ballot. Pick up the Post to read about the candidates Chang Kiraly is running against and others who will appear on the June 7 ballot.