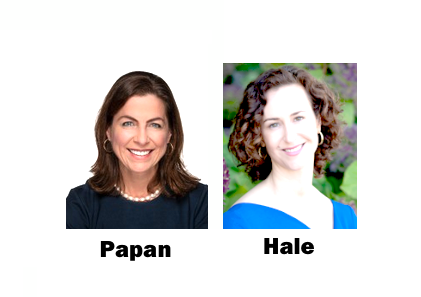 BY EMILY MIBACH
Daily Post Staff Writer
Opponents of Assembly candidate Diane Papan are calling on her to return donations from outside groups that are funding ads in the race.
Papan is a San Mateo City Council member and the group telling her to return the donations includes a fellow council member in that city, Mayor Rick Bonilla. Bonilla's group also includes local climate activists.
The Bonilla group claims Papan is being supported by money from "oil, drug, predatory lenders and energy companies, including Chevron and PG&E, who have put their profits over the interest and lives of San Mateo County residents."
They want Papan to reject the support of three independent expenditure committees, or IEs, that have spent $419,377 to support of Papan.
The group calling on Papan to repudiate the IEs is made up of supporters of Papan's chief rival in the race, Redwood City Mayor Giselle Hale.
One of the pro-Papan IEs, Housing providers for responsible solutions, is largely funded by the California Apartment's Association and has spent $132,539 on consulting, a mailer and ads attacking Redwood City Mayor Giselle Hale. One flyer asserts that Hale will only be accountable to Facebook executives because she received donations from employees of the company, where she worked for nine years.
The "Housing providers" IE has spent $224,684 on ads in favor of Papan.
Papan campaign's response
"It is a well-established fact that organizational entities completely outside the control of legislative candidates conduct their own communications with voters, which neither Papan nor Hale has control over. Hence, the Papan campaign cannot return donations it has never received," a statement from Papan's camp states.
However, according to campaign finance filings, Papan received $4,900 from another one of the IEs that's gotten involved in the race, Future PAC.
Future PAC is funded by a series of political action committees, including a PAC in favor of charter schools, the prison officer's PAC, Pharmaceutical research and manufacturers of America PAC, the California Apartment Association and the California Hospital Association. The Future PAC also gets donations from another PAC called Californians for Jobs and a Strong Economy. That PAC has many donors, including Fox Cable Network Services, AT&T, Am-gen, In-N-Out Burger, PG&E, Valero and Chevron.
Another IE, the California Labor and Business Alliance, has put $85,225 into digital ads for Papan. Its donors include the California Apartment Association, California Real Estate PAC, the state correctional officer's PAC, Chevron, PG&E and the state building industry PAC.
Papan has the support of former state Sen. Jerry Hill, who after the 2009 San Bruno pipeline explosion, became the state legislature's watchdog of the utility.
"Any candidate who claims to support homeless housing and sustainability has no business accepting contributions or efforts from these special interests. What the people need is a fair election," Bonilla said in a statement.
'Smear tactic' alleged
Papan calls the statement from Bonilla and other Hale supporters "nothing more than a desperate smear tactic on Hale's part to hide the fact that Hale herself is beholden to wealthy executives and corporate special interests."
There does not appear to be any IEs spending money on behalf of Hale yet, but a group called San Mateo County Residents for Giselle Hale for Assembly registered with the Secretary of State's office on Thursday. That IE appears to be funded by the group Peninsula Now, which lists former Redwood City mayors John Seybert and Jeff Ira as two of its primary members. The group hasn't registered any expenditures yet.
However, Hale has easily led in donations to her campaign, bringing in $557,167, according to totals from earlier this month. Donors include current assembly members, local elected officials, residents of the district, unions and tech CEOs. Meta CFO David Wehner of Atherton and at least four other Meta employees have each donated the maximum $4,900 to Hale's campaign.
Meanwhile, a group called California Working Families Party has spent 5,197 on phone banking for South San Francisco Councilman James Coleman. Major donors to that group include Eva Grove, a Los Altos resident and widow of Intel CEO Andrew Grove, West Hollywood philanthropists William Res-nick and Michael Stubbs and Oakland nonprofit organizer Quinn Delaney and West Hollywood
Primary will determine two finalists
The three are facing each other, along with Redwood City residents Alison Madden, Tania Sole, Mark Gilham and San Mateo County Community College board member Maurice Goodman in the June 7 primary. The top two vote-getters will face off in the November election.