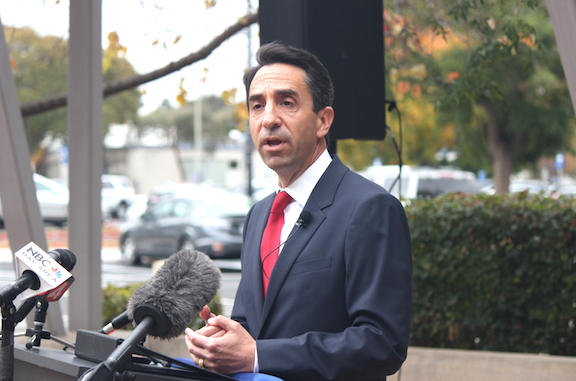 BY BRADEN CARTWRIGHT
Daily Post Staff Writer
Santa Clara County District Attorney Jeff Rosen sat down with the Post for a two-hour interview and talked about the fentanyl crisis, police misconduct, the injustices of cash bail and his rocky relationship with Sheriff Laurie Smith.
He is positioning himself as a candidate who will serve as a balance in the criminal justice system, using both restorative and punitive justice to address crime. He said the system is moving in the right direction, and he is confident he will be elected to his fourth term.
Rosen defended his decision not to charge Palo Alto police officers in two of three recent cases when officers seriously injured a person.
"Force often looks ugly from the police. It just does," he said.
Many of Rosen's practices have changed during his 12-year tenure. He stopped going after the death penalty and prosecuting many drug charges.
Drug cases
Out of around 33,000 cases his office handled per year, Rosen said 6,000 were standalone drug offenses, with no other charges. Prosecuting those cases wasn't helping make the county safer, Rosen said.
People who were sent to jail could still get drugs, and that wasn't rock bottom for a lot of them, Rosen said. Addicts who were forced to drug treatment either couldn't get beds or didn't stop using, he said.
"People are ready when they are ready," he said.
Rosen said police still catch drug dealers, even if users aren't leading them there. Undercover cops are really good at pretending to be users, he said.
Rosen said he is "super focused on fentanyl." He said he talks to people at homeless camps and parks about why they use, and he is part of a county task force addressing the crisis.
Rosen recently charged a 16-year-old boy with murder for selling drugs that killed a 12-year-old girl, and he charged an adult fentanyl dealer with murder too.
There were 29 fentanyl-related deaths in 2019, 90 deaths in 2020 and 135 deaths last year.
Rosen wasn't familiar with the case of Matthew Carpenter, a Los Altos High School graduate who sold his friend Eitan Weiner, 20, fentanyl-laced pills that killed him at Stanford. Carpenter pleaded guilty last month and was sentenced to two years of probation.
Palo Alto police brutality allegations
Rosen talked about three cases in Palo Alto when cops seriously injured a person in the past four years, and why he charged one of them and let two of them go.
Rosen charged Sgt. Wayne Benitez with assault for slamming a handcuffed man into the hood of a car at Buena Vista Mobile Home Park in February 2018, and then lying about it on the police report.
Rosen initially didn't press charges against Benitez because he said the one-year statute of limitations for felonies had passed. But the statute of limitations for misdemeanors is three years, so Rosen reversed his decision and said he made a mistake. Benitez was charged with misdemeanor assault in October 2020.
In the second case, Rosen said no crime was committed when Officer Thomas DeStefano took down Julio Arevalo into the pavement outside of Happy Donuts, resulting in broken bones around Arevalo's eye. Arevalo was resisting arrest, Rosen said.
In the third case, Rosen said that Agent Nick Enberg acted within the law when he ordered a police dog to bite a man sleeping innocently in his backyard in Mountain View. Enberg didn't know the sleeping man was there, and he was looking for a dangerous kidnapper.
Enberg could've done things better, like announce himself, but his and DeStefano's actions weren't criminal, Rosen said.
Didn't know about sex exam case
Rosen was not aware of a case from Mountain View in 2019, when officers allegedly made a 5-yearold girl to take off her clothes so a paramedic could examine her private parts. An officer used his phone flashlight to help the paramedic see, the girl's parents said in a lawsuit.
Police officers suspected the girl's dad of molesting her based on a report from her teacher, but the girl and her family told police that she was injured on a rope at a trampoline park. The case resulted in a $600,000 settlement to the family, including $200,000 from Santa Clara County.
Rosen said if the facts are true, then that sounds like a crime. But he said he didn't know about the case.
He threw a shot at his challenger, public defender Sajid Khan, for saying he would be tough on police officers.
"People that want to come in on high from, oh let's say the Public Defender Office, and who have never been a prosecutor and never worked with cops, now want to tell police officers how to do things," he said. "Go to San Francisco. It's not happening."
His background
Rosen grew up in Los Angeles and got his bachelor's degree in philosophy from UCLA. He graduated from UC-Berkeley Law School in 1992 and worked for private law firms before he was hired at the District Attorney's office in 1995.
Rosen prosecuted thousands of cases, from misdemeanors to murder, and in 2010 he unseated his boss, Dolores Carr.
Rosen ran unopposed in 2014 and 2018, and this year he has two challengers. Khan says Rosen doesn't address the root causes of crime. Daniel Chung, a former Deputy District Attorney who was fired by Rosen last year, says Rosen runs an inefficient and unfair office.
Rosen said cases do move too slow, but it's not all his fault. His office handles a high volume of prosecutions, and defense attorneys try to delay cases so they breakdown, which is within their rights, he said. Ultimately, judges are responsible for moving cases along so punishment and rehabilitation is timely, Rosen said.
Bail system
Rosen said he is against cash bail. He said it's a transfer of money from working class people of color to bail bondsman, and it doesn't work: People still skip out on court dates.
Rosen wants to follow the federal bail system: a person is released based on whether they are a public safety or flight risk. In more than 90% of cases, a defendant can be safely released, he said.
As it stands now, Rosen said he asks judges for a very high bail amount or no bail when he thinks someone is a risk.
Rosen said he lobbied for a bill to replace bail with supervised release, which comes with check-ins, ankle monitors and drug tests, but the bail bond industry spent big to campaign for voters to overturn it.
Relationship with the Sheriff's Office
Rosen said he and Sheriff Smith have had a rocky relationship, but it has nothing to do with him charging her top deputies, Undersheriff Rick Sung and Captain James Jensen, with bribery.
Sung and Jensen gave out concealed carry gun permits to campaign donors and ignored applications from others, Rosen said. Three private security officials have pleaded guilty to bribery, while Sung and Jensen's prosecution is underway.
Rosen and Smith butted heads over whether he can listen to calls made at the jail. Rosen said in every other county, sheriffs hand over recordings without a warrant. Most DAs even have a terminal in their office to listen to it, he said.
Sung and Jensen's lawyers have accused Rosen of going after them as revenge for not getting the jail recordings. Rosen said there is no truth to that.
"If I'm so out to get her that I'll launch a whole investigation just because I'm mad that she's not giving the jail calls — which every other sheriff does, so I don't understand — then why didn't I charge her?" he asked.
Rosen said he would've been a hero if he charged Smith, but he wouldn't have been able to prove her guilt to a jury. He said it's a possibility that she will be charged in the future, but he doesn't have evidence right now that she committed a crime.