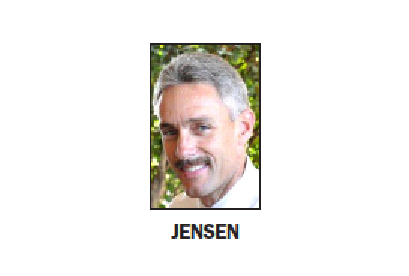 BY BRADEN CARTWRIGHT
Daily Post Staff Writer
Retired sheriff's Capt. Kevin Jensen said he's been speaking out about how the sheriff's office is run well before dysfunction came to light in lawsuits and outside reviews.
Jensen, who worked in the sheriff's office for 28 years, ran and lost to Sheriff Laurie Smith in 2014 with 41% of the vote. Since then, three correctional officers murdered an inmate in a cell, and two mentally ill inmates seriously injured themselves and were delayed medical care. "I wish I had gotten in there, because that wouldn't have happened under my watch," Jensen said.
Jensen, 58, said if he wins this time around, he would change the culture from the top down, getting rid of an "air of intimidation and fear."
Jensen said he do a thorough investigation of past wrongdoing. He would find out each person's role and why they did it, and then go from there.
"I'm going to treat it like a disaster or a murder scene," he said.
Jensen said he would hire more lieutenants and have them audit videos from the jail so officers know they'll be held accountable.
"People want the change. They're tired of being under the stigma of working for a corrupt sheriff."
Since Jensen retired in 2013, he said he has continued to be a mentor for people trying to navigate the sheriff's corruption.
The problems extend beyond the jail. Smith is also facing a Civil Grand Jury accusation to remove her from office for giving out concealed carry weapons permits in exchange for campaign donations. People who didn't donate were far less likely to get their application looked at, the accusation says.
CCW permits
Jensen said the allegations of bribery were an open secret for years, and that Smith and her top two deputies controlled all of the decisions on gun permits. Jensen said he would have a group of officers consider permits without his input, based on objective criteria.
His priority would be permitting people who are responsible and promoting gun safety. Everyone who applies would get a response, he said.
Jensen is on the fence about whether police radios should be encrypted, preventing the public from listening in. Currently, all but one police agency in the county uses encrypted radios, a move that began after a memo from the state Department of Justice concerned about police broadcasting people's personal information over the airwaves.
In the three cities policed by sheriff's deputies — Cupertino, Saratoga and Los Altos Hills — Jensen said he would focus on traffic control, particularly around schools.
Jensen said he would bring in clinicians who use religion and volunteers to work with inmates in the jail.
He is supportive of a new jail that is about rehabilitation, and he also wants the county to build a mental health treatment facility.
His background
Jensen was born in San Francisco and said he was grew up in a dysfunctional home. His dad stole cars, got into fights and ran from the law, and he was eventually arrested for robbing a hotel while they were living in New Orleans
His mom divorced his dad and moved back to California. Later on, Jensen's dad came back and apologized. His dad said he had found religion and he was trying to do right. Jensen said he was skeptical, but it turned out that his dad was now the real deal. He was a stand-up guy that everyone liked to be around, Jensen said. Jensen said his relationship with his dad showed him that people can change, and he also learned how not to get played.
Jensen met his wife at church in South San Francisco. They were living in one bedroom with two kids, and Jensen was working construction when his wife saw that the sheriff's office was hiring. He became a deputy in 1985 when he was 21.
Jensen worked in the jail, on patrol and at the courts.
Jensen went to the FBI National Academy, and he graduated from Saint Mary's College with a masters degree in leadership.
He was in charge of catching people who escaped from the jail, back when only fences lined it. He eventually became the assistant chief of the jail.
Teaches ethics classes
Since Jensen retired in 2013, he has continued to teach classes in ethics and management. He is an instructor in Peace Officers Standards and Training, or POST, which is required for deputies.
Jensen said he wanted to run again in 2018, but Undersheriff John Hirokawa also wanted to run as a reform candidate. Jensen tried to convince Hirokawa that he was the best candidate to win, but Hirokawa didn't budge.
Jensen said he didn't run because he knew he'd split the vote. Hirokawa lost to Smith with 43% of the vote.
Jensen has received endorsements from both the jailers' union, and several other police unions and advocacy groups.
Jensen is running against four other candidates: Palo Alto police Chief Bob Jonsen, Sunnyvale businesswoman Anh Coulton and two sergeants who work in the jail, Christine Nagaye and Sean Allen. The primary is on June 7, and the top two vote-getters will face off in November.