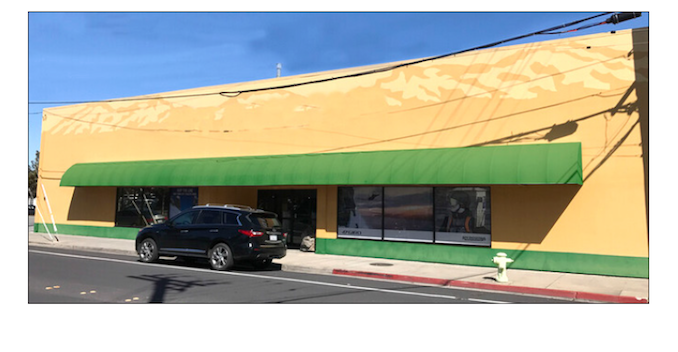 BY EMILY MIBACH
Daily Post Staff Writer
A cannabis retailer is asking Redwood City officials for a permit to open a store in the former Any Mountain sporting goods store at 928 Whipple Ave., and a neighbor is fighting the application.
The space will hold a lot of weed — it's 20,790 square feet, the size of the Midtown Palo Alto Safeway store, and has 40 parking spaces.
Neighbor Douglas Ledingham said he received a flyer about the proposed cannabis store from some workers cleaning out the building after squatters found there.
Ledingham said he would have never bought his home 20 years ago if he knew that a dispensary would one day open two blocks away. He's told neighbors about the plans and said they're also against it.
"I don't see why they think there should be one here in a neighborhood," he said, saying he'd be happy to see anything else go in the building. Well, unless it's "one of those Halloween stores."
The Post reached out to Airfield Supply Co. to hear why it selected the location and its plans for it but did not hear back. Airfield Supply Co. has a 20,000-square-foot location near Mineta San Jose International Airport too.
City withholds applications
The Post has been trying to get further information about the proposed cannabis shops, but so far has been told to wait until Jan. 27 to receive information from the city.
The city plans to award six permits for cannabis stores. But the exact locations the applicants are seeking hasn't been disclosed.
Ledingham said the neighborhood never had issues with Any Mountain when it was open, but he's worried people will park on Stafford Street and smoke. He also questions how knowledgeable and capable any security guard hired by the dispensary will be. However, the city has required a security plan to be submitted as part of its application. Like other documents in the application, that plan hasn't been released by the city.
City's screening process
In a preliminary screening of the 26 cannabis applications, Airfield's company, Runway Services Inc., ranked second. But the city's final rankings are not done. City Manager Melissa Stevenson Diaz's office recently interviewed the top 17 applicants based on that initial ranking.
Throughout the process, the city has been checking the backgrounds and qualifications of owners and businesses, a city spokeswoman told the Post last week. This includes some sort of screening or interview throughout nearly every phase of the process.
However, it sounds like some of the cannabis shops hoping to open in Redwood City aren't planning a stereotypical dispensary.
Lauren Fontein, a co-owner of The Artist's Tree, which is looking to open up in the shopping center with Bed Bath and Beyond and Wing Stop off El Camino Real, told the Post that her company plans to have art displayed in the shop and will host a range of local artists.
Store locations
Ledingham however, is questioning where the shops will be allowed, if near his neighborhood, where else?
Redwood City is the first city on the mid-Peninsula to allow cannabis stores. Redwood City, San Carlos and Mountain View have allowed for non-retail cannabis businesses, such as delivery centers and nurseries to open up.
Shops could open downtown along most of El Camino Real, from Harrison Avenue to the city's border with unincorporated North Fair Oaks, and from Arch Street to Avondale Avenue. They will also be allowed along Veterans Boulevard from Standish Street to the city's border with San Carlos.
They could also go along Woodside Road from Hudson Street to Safeway and along Arguello/Broadway between Fuller Street and Hamilton Street.
Furthermore, shops could end up along Seaport Boulevard and a handful of other spots throughout town.
City will get part of the sales
The city has a 4% gross receipts tax on cannabis retailers, which could prove to be a regular revenue stream for the city if the retail marijuana business gets going. The city can increase the tax up to 10%, but the city's consultant, David McPherson, recommended that the city just leave it at 4% for now and then reassess how the businesses are doing once they are established.
With six pot stores, the tax could bring in $1.32 million a year, according to an October 2020 report from Assistant City Manager Alex Khojikian.