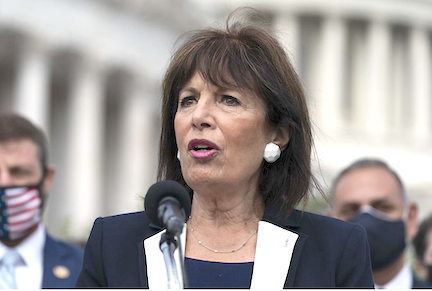 This story was originally printed in the Daily Post on Wednesday, Nov. 17. To get all of the local news first, pick up the Post in the mornings at 1,000 Mid-Peninsula locations.
BY EMILY MIBACH
Daily Post Staff Writer
State Sen. Josh Becker, Assemblyman Kevin Mullin and San Mateo County Supervisor David Canepa are among the names that popped up yesterday when Jackie Speier announced she wasn't going to run for re-election to Congress next year.
At this point, it's too early for a candidate to announce they're running, but Canepa tweeted: "… Speier is hanging up her cleats and she needs a replacement on the field. Put me in coach, I'm ready to play today."
One reason why it's too early to announce is that the 14th Congressional District's boundary lines are being redrawn as part of the redistricting pro-cess. The new map won't be available until Dec. 28.
But a candidate doesn't have to live in the district to run. If they win, of course, they'll have to move into the district.
The Post came up with this list of possible candidates:
• Josh Becker — State Senator, D-Menlo Park. Becker has become a rising star in California, gaining attention for his climate bills. However, he lives in western Menlo Park, currently outside of the proposed District 14 boundaries.
• Kevin Mullin — State Assemblyman and the Assembly's speaker pro Tempore, putting him in the Democratic Party's state leadership. The South San Francisco resident is the son of Assemblyman Gene Mullin, who died in April. Mullin lives in Speier's district and even worked for her. Mullin will be termed out in 2024.
• David Canepa — San Mateo County Supervisor. Canepa, a Daly City resident appears to be the first one to announce his inclination to run for Speier's seat. Canepa, currently the board president, has made numerous TV news appearances as the spokesman the county regarding Covid and other issues over the past year.
• Emily Beach — Burlingame councilwoman. Beach served as a Captain in the Army, stationed in Saudi Arabia, South Korea and Texas, she's worked as a business executive and been on the city council since 2015.
• Giselle Hale — Redwood City councilwoman and vice mayor. Hale is no stranger to fundraising and large-scale campaigning, having been a regional director for President Obama's campaign and a campaign manager for Anna Eshoo. However, it's possible Hale may not be in Speier's district, as previous district maps have excluded Redwood City.
• Shelly Masur — former Redwood City councilwoman. Masur ran for Becker's seat and had previously run for the Board of Supervisors. Masur was on council for six years, and before that was on the Redwood City School Board for 10 years. She currently is the state director for the nonprofit Council for a Strong America, which works with at-risk children and improve local communities.
• Gina Papan — Millbrae Councilwoman. Papan, daughter of former Assemblyman Lou Papan, is a deputy California attorney general, who helped establish Amber Alerts. She is also on the Metropolitan Transportation Commission — a regional entity that divvies up state and federal transportation funds and gives them to local governments.
• Diane Papan — San Mateo councilwoman. Sister of Gina Papan and daughter of Lou Papan.
• Rick Bonilla — San Mateo councilman. Bonilla, a retired carpenter and staunch union advocate. Bonilla has increasingly supported non-establishment and more progressive candidates in the county.
• Davina Hurt — Belmont councilwoman. Hurt recently went to Scotland as part of the California Air Resources Board, which she was appointed to in December 2020. She is also an appointed member to a Department of Consumer Affairs licensee board and drafted documents for the International Criminal Tribunal for Rwanda.
• Adam Rak — San Carlos councilman. Rak has been named by some as interested in seeking a higher office and is known for working on the city's economic development, having previously served on the city's chamber of commerce board.