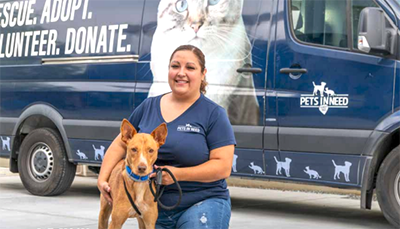 Editor's note: Post reporter Braden Cartwright has been investigating Pets In Need following the decision by the district attorney to charge three employees in the deaths of seven puppies. This series is based on documents he obtained from the city through a California Public Records Request, a letter from Pets In Need workers and interviews. Here's a link to Part 1.
BY BRADEN CARTWRIGHT
Daily Post Staff Writer
Pets In Need Executive Director Al Mollica said he resented city officials and questioned the need for a police investigation into the deaths of seven puppies while in the care of his nonprofit, according to emails between him and Palo Alto city employees obtained by the Daily Post through a public records request.
At the direction of his board, Mollica said he is minimizing interactions with the city "until the deceased puppies matter gets resolved," meaning monthly update meetings between the two parties have been canceled.
The police investigation must be completed before the nonprofit discusses extending the contract beyond 2024, Mollica said in an email on Sept. 29.
"As time drags on (over two months as of this writing!) with no resolution on the investigation, the resentment grows, as does the internal organizational tension," he told Kristen O'Kane, the city's community services director, in an email.
Pets In Need is in its third year of a five year, $3.4 million contract to operate the Palo Alto Animal Shelter.
The city outsourced animal services to save money, and at the same time Pets In Need nearly quadrupled its revenue from two years before as it became the animal care provider for Palo Alto, Los Altos and Los Altos Hills.
The city can terminate the contract within 60 days if Pets In Need breaks the law, according to the contract. However, it's unknown if that termination clause would come into play if Pets In Need's employees were to be convicted criminally.
Three Pets In Need employees were charged on Oct. 26 with two misdemeanors, animal cruelty and neglect. Police say the employees — Patty Santana, Maggie Evans and Ingrid Hartmann — took a van full of animals from the Central Valley to the Palo Alto Animal Shelter on Aug. 2 without giving them water or air conditioning, resulting in the deaths of seven puppies.
"I don't understand how or why this rises to a level to justify a police report since this was PIN's business and had nothing to do with the city or the PA shelter," Mollica wrote on Aug. 4 to Cody Macartney, the police department's lead animal control officer.
Mollica wanted to know who told police
"I'd also like to know who filed a police report on this incident and what the justification was," Mollica said.
Police Capt. Zach Perron responded later that day.
"When Cody notified me yesterday morning about the puppies, I requested that an officer go out to the shelter to take a report," Perron said in an email obtained by the Post. "This is standard operating procedure for us; similar to if someone left their pet dog unattended in a parked vehicle on a hot day in Palo Alto and it perished, we would document that in an investigation."
Mollica and Perron then got into a back and forth about necropsies of the puppies. Mollica said Pets In Need wanted to perform its own necropsy on one of the puppies, but Perron said detectives are having necropsies performed on three of the puppies and keeping the remaining four as evidence "for now."
The District Attorney said none of the bodies of the dogs would be released to Pets In Need until the necropsy reports are final, Perron said.
"This delay is impeding our internal analysis of what happened," Mollica said. "Additionally, I have decided that we will not to go on any rescue runs until we can determine what happened with these pups, so your stop request on the necropsy is also stopping our rescue runs."
Shelter workers speak out
Mollica's anger at the investigation is also reflected in a letter written by a group of shelter workers who were upset over the deaths.
"The response from Pets In Need's leadership is appalling," the employees wrote on Aug. 9. "Mollica has made it clear that there will not be consequences for the neglect that took place during this run, and there will be no accountability or designating of responsibility."
Employees said Mollica has cast doubt on heat stroke as the likely cause of death by blaming worms or vaccine reactions.
Mollica is aware that animals have died in transit before, but he told shelter employees in emails and at a large meeting that it has never happened before, employees said.
"He has been combative and dismissive of the entire event," employees said. "The lack of effective leadership and clear accountability by the executive director creates the opportunity for something this abhorrent to happen again."
Yesterday, Mollica's lawyer called the Post and requested emailed questions instead of an in-person interview of his client. Mollica's answers mostly reflected his emails with the city that the Post had obtained through a public records act request.
Cause of the deaths questioned
The police investigation prevented Pets In Need's own investigation, Mollica said through his attorney. He said puppies may have died from other conditions.
"We can only speculate about what caused the animals to die," he said.
Mollica didn't answer a question about why the incident was kept private until the police made a statement 12 weeks after the deaths.
He said that Santana and Hartmann remain employees, and Maggie Evans chose to leave. Pets In Need is providing them with lawyers, he said.
Part 3: Tension between the city of Palo Alto and Pets In Need extends beyond the criminal case.