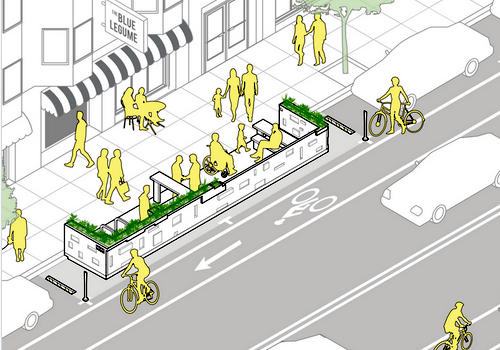 BY EMILY MIBACH
Daily Post Staff Writer
In the hopes to reviving the farmers market and increasing parking downtown, the San Carlos City Council unanimously decided last night (July 12) to change some of the rules related to restaurant parklets along the 600 block of Laurel Street.
The 600 block of Laurel has been open to cars, but parking spaces are being used by both restaurants and cars, with some restaurants extending their parklets past the front of their stores.
After meeting with some businesses and the San Mateo County Chamber of Commerce, Councilmen Ron Collins and Adam Rak suggested the council change some of the rules related to parklets.
The two changes are:
• The parklets cannot extend past a restaurant's boundaries;
• Only businesses that are open for a minimum of five-days-a-week for both lunch and dinner can continue to use their parklets.
By increasing the parking, the non-restaurants on that block, and perhaps even on the 700 block of Laurel, which is closed to cars, may be able to increase their sales, suggested Mayor Laura Parmer-Lohan.
Parmer-Lohan said some retailers in the area have lost up to 70% of their revenue.
Additionally, some business patrons have found that it's not worth parking in Wheeler Plaza or the SamTrans lot for their quick trips downtown, Collins added.
The block will still be closed to car traffic on Sundays, according to Economic Development and Housing Manager Aaron Aronson. This will allow for the city's farmers market to return to Laurel Street after being moved during the pandemic to the city's east side Arts District at Bayport Avenue and Varian Street.
The market went from having 65 vendors and making $40,000, to losing $10,000 and having only 16 vendors, according to Aronson.
Parks and Recreation Director Amy Newby said her office surveyed other farmers markets in the area, and they did not see the serious drop-off in vendors and revenue San Carlos has seen.
Aronson and Newby both advocated for moving the farmers market back downtown in hopes of saving the market.
ᐧ