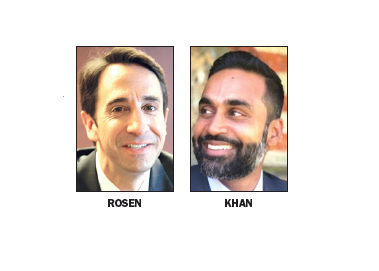 By the Daily Post staff
Sajid Khan, a public defender who says he's "committed to truth-telling about systemic racism," announced Sunday (July 11) that he will challenge District Attorney Jeff Rosen in next year's election.
Rosen, was first elected in 2010, didn't face a challenger when he ran for re-election in 2014 or 2018.
Khan has been endorsed by the Real Justice Political Action Committee, which funds criminal justice reform candidates for district attorney around the country.
"I will be committed to truth-telling about systemic racism, shrinking mass criminalization, addressing root causes of crime and bringing the criminal legal system in line with basic notions of justice and humanity," Khan said at a kickoff rally in San Jose.
Khan has been a public defender in Santa Clara County for 13 years.
According to a statement from his campaign, Khan was born in San Jose to Muslim immigrants from Madras, India. Khan's mother worked as a laboratory scientist at O'Connor Hospital in San Jose and his late father was a physicist in the semiconductor industry who established a mosque and later a school, both in Santa Clara. The mosque, Muslim Community Association, is where Khan worships today. The school, Granada Islamic School, currently educates Khsn's two sons. Khan's parents instilled in him a dual faith in service and justice, inspiring him to pursue a career defending civil rights.
In the campaign, Rosen said he willl emphasize his record of increasing services to victims, reducing the jail population, diverting nonviolent offenders from jail and expunging low-level drug crimes.
Rosen said he has raised $450,000 for his campaign and has 60 endorsements including all five members of the Santa Clara County Board of Supervisors and several North County council members.
Former Mountain View Police Chief Max Bosel and retired Palo Alto Police Chief Dennis Burns have given Rosen their endorsement too.