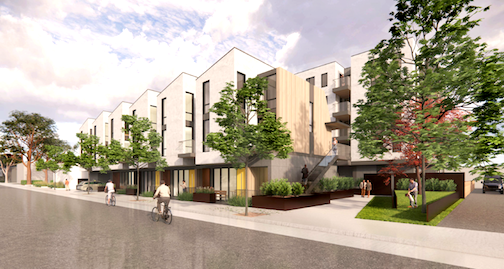 The Post first printed this story on Thursday. If you don't want to miss out on all the local news, pick up the Post in the mornings at 1,000 Mid-Peninsula locations.
BY EMILY MIBACH
Daily Post Staff Writer
A developer is proposing to build 49 homes in a five-story, 55-foot complex near the now shuttered Fry's Electronics store in Palo Alto's North Ventura neighborhood.
The project at 280-300 Lambert is owned by Atherton resident Roger Fields of Peninsula Land and Capital.
The development will replace 10,125 square feet of commercial space including an auto shop.
The project will have nine or 10 apartments reserved for low-income tenants, according to documents filed with the development proposal earlier this month.
Along Lambert, 10 three-story townhouses will be constructed. To the rear of the site, near Matadero Creek, the project will consist of 39 condominiums in a five-story building with a maximum height of 55 feet, according to the project submittal by Jeff Galbraith of Hayes Group Architects, which submitted the project on behalf of Fields.
Documents indicate that Fields will apply to the city under its new Planned Home Zoning category, which allows developers to exceed certain restrictions like the 50-foot height rule in exchange for setting aside 20% of their units for below-market-rate rentals.
This project will go to a pre-screening by the City Council, but no meeting has been set just yet. Galbraith anticipates the project from application submittal to the end of construction will take about three and a half years.