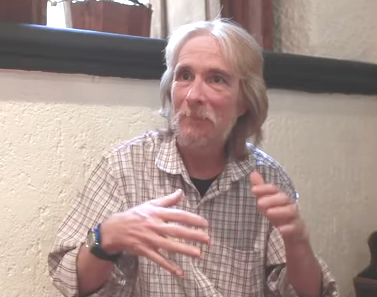 By the Daily Post staff
Federal authorities announced today that they have arrested former Mountain View resident Christopher Doyon, who fled to Mexico after he was charged with launching a "denial of service" attack intended to cripple Santa Cruz County government's computers.
Doyon, 56, literally wrote the book about the activist group Anonymous. While on the run, he wrote and published "Behind the Mask." On Twitter, he called himself Commander X but some media accounts called him the "homeless hacker." Other media accounts described him as the "Face of Anonymous."
A grand jury indictment from 2011 claims the People's Liberation Front (PLF) coordinated and executed the attack. The PLF is associated with other hacking groups such as Anonymous, of which Doyon has proclaimed himself to be a member.
According to the indictment, the December 2010 denial of service attack on the county's computers was orchestrated as part of "Operation Peace Camp 2010" in retaliation for the enforcement of certain camping policies. The policies restricted camping within the city of Santa Cruz, drawing howls of criticism from the homeless.
In response to the legislation, protesters occupied the Santa Cruz County Courthouse premises from July 4, 2011 to Oct. 2, 2011, federal prosecutors contend.
Law enforcement officers from Santa Cruz County disbanded the protest and several protesters were charged with misdemeanors.
In retribution, the PLF coordinated and executed the denial of service on the county government's website.
Doyon was arrested and arraigned on charges of intentionally damaging protected computers and conspiracy, and he was released pending trial. Doyon then failed to appear for further court proceedings.
About 10 years later, on June 11, 2021, Doyon was arrested by Mexican immigration authorities in Mexico City, and deported to the United States, the U.S. Department of Justice said in a statement.
On Saturday, he was arrested by the FBI. Today (June 14) he appeared before Magistrate Judge Donna Ryu in Oakland and was jailed pending further proceedings. Defendant's next appearance is scheduled for June 15, for arraignment and identification of counsel.