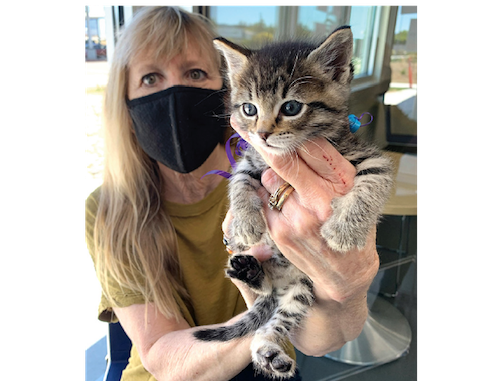 BY EMILY MIBACH
Daily Post Staff Writer
The kitten who was stolen from the cage he shared with his mother at a Redwood City shelter returned home yesterday (May 27) two weeks after disappearing.
Olaf is now about six weeks old, and while he is about three ounces smaller than he should be, Whis-Purr shelter director Lucy Brock says the kitten is fine physically and just a little "discombobulated."
"I knew the minute I saw him, the markings were all in the right place, and he recognized me," Brock said.
Brock rescued Olaf and his family a day after the kitten was born and cared for him at the shelter, which shares a building with the Peninsula Feed Store at 346 El Camino Real. Brock had received a tip via Instagram that a 15-year-old was bragging about stealing the kitten on a Snapchat post. After receiving the tip, Brock and some volunteers put up flyers about Olaf in the neighborhood where the teen lives, hoping she would come forward.
However, she did not. So Brock went to the home to confront the family but Olaf wasn't there. Not wanting any further trouble, the family had taken the kitten to the Peninsula Humane Society, Brock said.
Reunited
Yesterday, Brock was able to reunite Olaf with part of his family at the shelter. One of Olaf's brothers, Ollie, recently fell ill and has been at the Sage Animal Hospital, Brock said. Out of concern for Ollie, their mother Olivia is staying with him at the animal hospital.
So Olaf has only been reunited with his sister and other brother, Brock said. The kittens have been smelling each other and slowly getting to know one another again. When Olaf first went missing, his sister, Olea, curled up in a ball in the corner of the cat's shared pen.
As for the teen, Brock said she is not pressing any charges and hopes the girl learns a lesson. However, Brock is still wondering when the girl grabbed Olaf.
Reward
The $2,000 reward Brock was offering for Olaf's return is going to the tipster, Brock said.
Brock said over the past two weeks she has gotten dozens of texts and photos of kittens that people thought looked like Olaf, one such photo coming from someone in Texas who had heard about the missing kitten.
"It's amazing how much the community cares," Brock said.
Olaf, his siblings and his mother will eventually go up for adoption, but not until the kittens are three months old, Brock said. And at that point, they will be up for adoption as pairs, with mama Olivia going out with one of the pairs, Brock said.