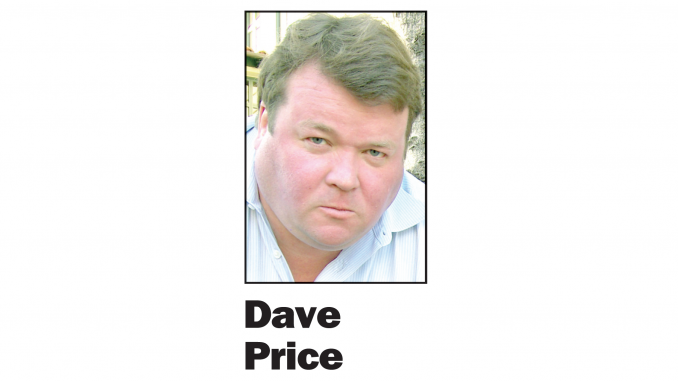 OPINION
BY DAVE PRICE
Daily Post Editor
When a government agency is proud of what it's done, they'll have a PR person send the media a press release to trumpet their accomplishment. Sometimes they'll have a press conference where the officials can slap each other on the back and give one another attaboys.
Of course when the government does something embarrassing, they try to say as little about it as possible.
Last October the state Department of Justice quietly issued a memo to local police departments across the state that will result in a reduction police transparency.
In the memo, the DOJ's California Law Enforcement Telecommunications System, CLETS, said local police departments should encrypt their radio frequencies or find another way to keep certain information confidential.
There was no public announcement about this memo or the new direction CLETS was taking. The public had been able to listen to police radios for about 70 years. But now that form of transparency would be taken away. After all, what gives citizens the right to keep an eye on their government anyway? (It's the same mentality that some cops exhibit when they try to stop people from videotaping an arrest. Such cops think they are above public scrutiny.)
You'd think that if the state were proud of this move, Gov. Gavin Newsom and then-Attorney General Xavier Becerra would have held a news conference telling people how much better encryption will make their lives.
No advance notice
The memo led a handful of Bay Area police departments — including Palo Alto, Mountain View and Los Altos — to jump quickly to full encryption without any prior public notice. Other agencies appear to have ignored the memo, which doesn't have the effect of law anyway.
The memo reminded the agencies that there were state and federal policies that prohibited the release of personally identifiable information or data from a state crime data base.
Such policies not laws. A policy is something written by a bureaucrat but never approved by the Legislature. Many policies would never receive the approval of elected officials. Policies often are attempts to do an end-run around legislators.
Alternatives to encryption
There are alternatives to encryption, such as an officer picking up a phone and calling dispatchers, or receiving the information via text or a computer in a police car.
San Francisco is switching to another alternative to full encryption. See related story.
These alternatives were never considered publicly in Palo Alto, Mountain View or Los Altos. No public hearings were held. The decision was made behind closed doors and, in the case of Palo Alto, sprung on the public about an hour before the plug was pulled on Jan. 5.
Palo Alto City Council members raised questions about encryption at a hearing on April 5, but no action was taken because it was a study session where official decisions aren't made. Council members said they wanted to revisit the issue at a formal hearing where binding votes can be taken. No date has been set for such a hearing.
State official won't talk
While council is interested in this issue, nobody at the state level is willing to discuss this shift in police policy. We tried repeatedly to interview Joe Dominic, the head of CLETS, who wrote the memo. He wouldn't take our calls.
So on March 30, the Daily Post filed a public records act request with the DOJ for more information.
We asked for documents that would show what discussions occurred between local police departments and Department of Justice's California Law Enforcement Telecommunications System, CLETS.
The state open records law requires an agency receiving a request to respond in 10 days. On the 10th day, we got an email saying the DOJ needed more time because we were requesting a "voluminous amount" of records.
On April 16, we modified the request to include the plans local law enforcement agencies were supposed to submit in response to the memo. We asked for the plans because we were wondering if other departments had come up with methods to protect confidential information without going to an extreme like encryption.
Today is the 55th day since we made our first request. We still haven't received one page of information.
You have a right to know
The public is demanding more transparency from police, especially after last summer's protests. This memo sends the state in the opposite direction by reducing transparency. I think the public has a right to know why the state has changed direction.
Editor Dave Price's column appears on Mondays. His email address is price@padailypost.com.
Note that the delay was in its 55th day on May 24, when this was published.