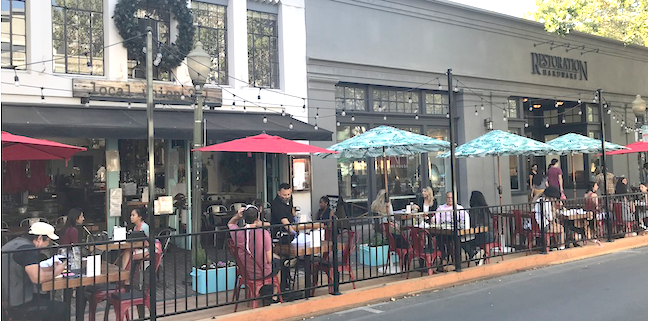 BY KYLE MARTIN
Daily Post Staff Writer
Palo Alto City Council next month will consider reopening all city street in July, earlier than the previous reopening date of Oct. 31, after closing down several streets through the pandemic to allow restaurants to operate outdoors.
City Manager Ed Shikada said at last night's council meeting that he will recommend reopening University Avenue and Ramona Street on July 6, and waiting until Sept. 7 to reopen California Avenue.
Last month council decided to extend the closure through Halloween.
While the restaurants operating outdoors benefited from the street closures, other business people including property owners feel the streets should be reopened now.
Roxy Rapp, a major downtown landlord, told the Post earlier this month the street closures hurt businesses without much outdoor space and those that aren't directly on the closed street.
"The city council has to realize that they're going to have a ton of vacancies," Rapp said.
In addition to closing portions of the streets, the city has also allowed restaurants to expand into curb-side parking spaces, creating what are called "parklets."
"I'm for the parklets, don't get me wrong. Give them the parklets," Rapp said. "But don't give them the … streets. It doesn't belong to them, it belongs to everybody."
Similarly, mid-Peninsula restaurateur Rob Fischer told the Post last month the streets should be open to all.
"I think we're on the right road to reopening the economy but I think we've waited way too long, and I just don't see the reasoning behind the decisions to keep everything closed," Fischer said. "And for all those businesses who have had to close permanently, and not be able to reopen, I feel terrible for them. And I think that in order to give everybody a fighting chance, we need to reopen everything."
Council will decide what to do about the streets sometime next month.