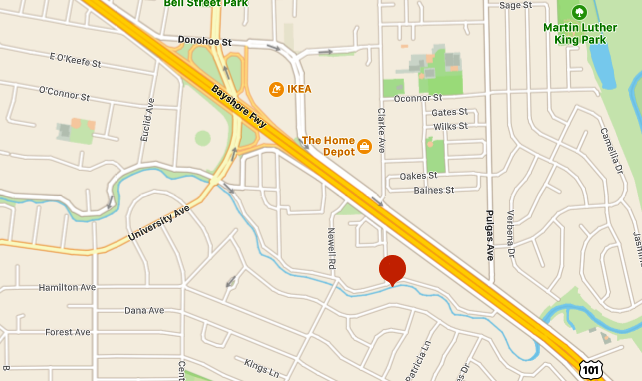 By the Daily Post staff
A man was shot and killed on the 1800 block of Woodland Avenue last night (May 23), just 19 days after another fatal shooting less than a block away.
Police aren't identifying the victim in Sunday night's slaying other than to say he's an "Hispanic male."
On Sunday at 10:18 p.m., ShotSpotter — a high-tech system of microphones that listens for gunshots — detected that shots had been fired in the 1800 block of Woodland Avenue.
Police rushed to the location and found the man suffering from several gunshot wounds. Officers attempted life-saving measures before firefighter paramedics arrived for further treatment. The man was taken to a hospital where he died.
On May 4, Christian Garcia-Torres, 25, of Redwood City, was shot in a parking garage at 1777 Woodland and later died at a hospital.
No arrests have been made in the Garcia-Torres murder. And the shooter in Sunday night's murder is at large as well.
The two shootings were in a portion of East Palo Alto between Highway 101 and San Franciquito Creek where there are several apartment buildings. The location is just a couple of blocks from Facebook CEO Mark Zuckerberg's house in Palo Alto.
Police are asking for the public's help in solving the homicides. Anyone with information can reach the East Palo Alto Police Department by:
• Sending an anonymous email to epa@tipnow.org
• Sending an anonymous text a phone to (650) 409-6792
• Leaving an anonymous voicemail at (650) 409-6792
• Or calling Detective Andrea Dion at (650) 853-7247