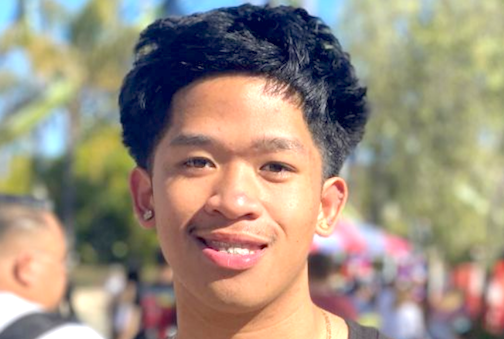 UPDATE, TUESDAY, MAY 18 — San Mateo police say they have arrested two 16-year-olds in connection with the fatal shooting of a 19-year-old man in a car parked in the lot of the San Mateo Adult School, 789 E. Poplar Ave. in San Mateo.
The victim has been identified by the coroner as Ashly Tianson, 19, of Daly City. His family has set up a GoFundMe site to cover his funeral expenses. His family called him Ashly "A.T." Yhuky.
"Yhuky was a special young man with a positive attitude," his family wrote on the GoFundMe site. "He made sure to light up your day with his contagious laugh and smile. He was selfless and generous — spending his paycheck on others before he spent it on himself. When our dad lost his car, Yhuky gladly gave him his without even being asked. He was comforting, protecting, and always made sure to express his feelings towards his loved ones."
"Yhuky graduated from high school just last year and had his whole life ahead of him," they wrote. "He had plans to join the Army but decided to stay and help pay for household expenses."
He leaves behind a mother, a father and three siblings.
Police said that a round-the-clock investigation led them to identify a suspect in San Jose, a 16-year-old, who was arrested Saturday and booked into Hillcrest Juvenile Hall.
Detectives found a second suspect, also 16, in San Mateo, who was arrested Monday. This suspect was also sent to Hillcrest.
Then detectives executed search warrants at residences in Menlo Park and San Mateo. Evidence collected as a result of these search warrants is being analyzed and processed, police said.
SATURDAY, MAY 15 — Police say a 19-year-old man was shot and killed in the driver's seat of a car parked in the lot of the San Mateo Adult School at 789 E. Poplar Ave. in San Mateo.
At 9 p.m. Friday (May 14), officers found the victim suffering from a shot to the abdomen. He was rushed to a hospital but succumbed to his injuries, police said.
Witnesses told police that a group ran from the parked car after the shooting ended.
"Detectives learned this incident was not associated or related to any activity or event at the San Mateo Adult School or San Mateo High School," according to a statement from police.
Police urged anyone with any information or who saw anything unusual or might have related footage — including from a dashboard or surveillance camera — to contact them immediately.
Anyone with information can call (650) 522-7700, or contact Sgt. Kurt Rodenspiel at (650) 522-7662 or krodenspiel@cityofsanmateo.org, or submit an anonymous tip to http://tinyurl.com/SMPDTips or by calling (650) 522-7676. — Bay City News