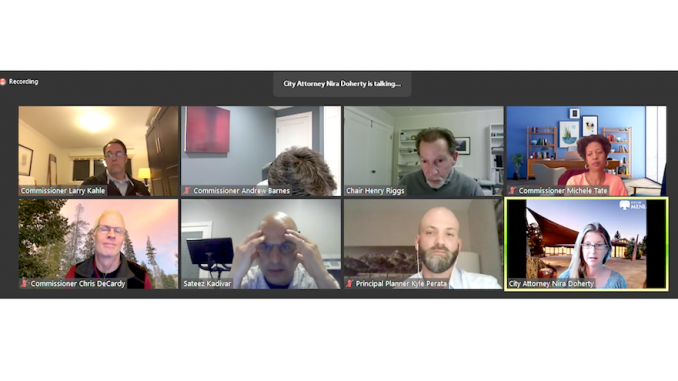 BY EMILY MIBACH
Daily Post Staff Writer
The Menlo Park Planning Commission on Monday (April 26) approved plans to build 105 apartments on the east side, but not before the commission first denied the project.
The commission considered a proposal by Sateez Kadivar to build apartments and a 746-square-foot cafe at 111 Independence Drive.
Commissioners Andrew Barnes and Michele Tate said they did not agree that the cafe was a community benefit to the neighboring residents of Belle Haven. Both suggested that instead of the cafe, Kadivar add an additional below-market apartment to the project.
The city is requiring developers who are building on the city's east side to provide a community benefit in their project. This can range from below-market homes to a pharmacy or bank to a cafe.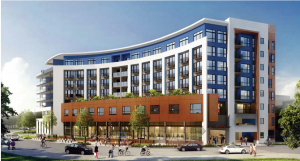 Tate said that it's nice to have a cafe, but a pharmacy is a must-have.
Kadivar said it was his understanding that other commissioners and residents were in favor of the cafe, and he balked at the idea of making "11th-hour" changes to his project.
The other commissioners — Larry Kahle, Henry Riggs and Chris DeCardy — were OK with the cafe.
But the project needed four votes to obtain the commission's approval.
The first vote was 3-2 in favor, with Barnes and Tate opposing the project while Kahle, Riggs and DeCardy were in favor.
Commissioners Camille Kennedy and John Doran were absent.
After taking a 5-minute recess to see how the commission could reconsider its previous vote, the commission ultimately voted 5-0 to approve the project. Both Tate and Barnes said they did not intend to derail an otherwise solid project.
Tate throughout the meeting praised Kadivar's inclusion of various levels of affordability in the project's 11 below-market-rate apartments. Five will be rented to people who earn 120% of the area median income (AMI), meaning a single person would make $146,160.
This project at 111 Independence is the first in a series of five proposed projects that could ultimately lead to 1,449 new homes in the Bayfront area.
Three developers are proposing five projects on Independence Drive, Constitution Drive and Jefferson Drive in the Bayfront area.
The other four projects are:
• Menlo Portal at 104 Constitution Drive and 115 Independence Drive, 320 apartments, 34,700 square feet of office space and 1,600 square feet of office space, proposed by Greystar.
• Menlo Uptown at 141 Jefferson Drive and 186 Constitution Drive, 483 apartments and 2,000 square feet of office space. Proposed by Greystar.
• Menlo Flats at 165 Jefferson Drive, 156 apartments. Proposed by Greystar.
• 123 Independence Drive, 316 apartments, 67 townhouses and 88,750 square feet of office space. Proposed by developer John Sobrato.
This addition of apartments to the city's east side does not count the 1,735 homes currently proposed as part of the massive Willow Village project by Facebook.