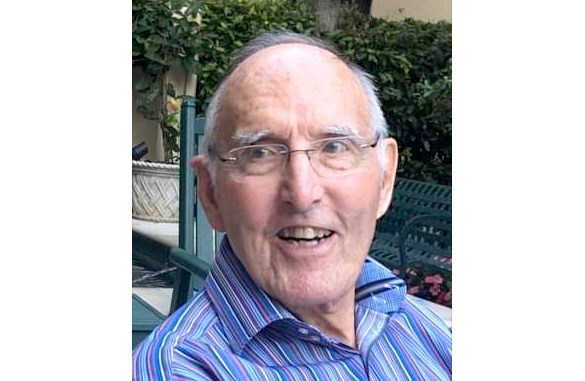 BY EMILY MIBACH
Daily Post Staff Writer
Bill Busse, a retired Palo Alto architect and a hands-on volunteer who spread enthusiasm and a glass-half-full attitude, has died at age 93.
Busse designed multiple buildings at Stanford, including the Tresidder Memorial Union, and was a regular volunteer known for his infectious optimism. He died Monday of natural causes, his daughter, Jan Murphy said.
Busse was raised in Prescott, Ariz. and after graduating from high school in 1945, joined the Navy. He was a veteran of both WWII and the Korean War. During his time in the service, Busse married Barbara Johnson. The couple had three days together before he left for Guam for six months.
Busse moved to Palo Alto in 1950 and attended Stanford, where he received his bachelor's and master's degrees. Busse hadn't planned on attending Stanford, but while visiting Barbara's family, he was talked into applying by his brother-in-law.
Designed noted local buildings
He worked in architecture until retiring as president of Spencer Associates, Architects and Planners in 1988. Some of his projects included his family's home, the downtown Palo Alto library and the Baylands Nature Interpretive Center in Palo Alto.
At Stanford, Busse's projects included remodeling much of the inner and outer quad buildings, including the President's Office, English Building and Math Corner. Busse had a hand in designing the Earth Sciences building, Solar Observatory and other science buildings.
When he wasn't working he was volunteering or traveling with his family. The family would regularly travel to Stanford Sierra Camp at Fallen Leaf Lake, Murphy said.
Among his adventures included a series of trips to the then Soviet Union that resulted in a book called "Breakthrough." Busse was the project manager for the trips that resulted in the book, which discussed world politics and the future. The book was highly acclaimed.
As for volunteer activities, Busse had been involved with the Palo Alto Rotary Club since 1976 and was club president in 2003-04.
Enthusiastic
Current Palo Alto Rotary President Ben Threlkeld said Busse was the ultimate version of a glass-half-full kind of guy, referring to Busse as "two drops," meaning even if two drops of water were in a glass, he'd consider the glass half-full.
Busse was also always the first person to clap and cheer on fellow Rotarians or guests at the do-gooder club. And he brought his training as an architect to Rotary, building sunshades at Greer Park and helping build the Sister City monument in King Plaza in front of Palo Alto City Hall.
But despite all of his numerous accomplishments, Busse may have been best known in his neighborhood for his annual peach ice cream social, Murphy said. The Busses had a Babcock peach tree in their backyard and every summer he would invite the neighbors over for some peach ice cream. Busse would entertain the neighbors by asking them a question, such as a highlight so far of the summer, and making sure everyone answered, Murphy recalled.
"It was a bonding experience for the neighborhood, and a big highlight of every summer," she said.
Busse is survived by his wife, Barbara, three children, Curt (Arlene), Jan (Ed Murphy) and Matt and his four grandchildren.
No services are currently planned.