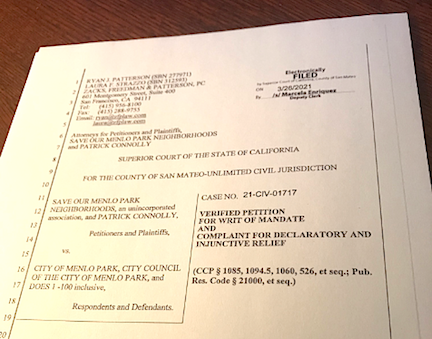 This story was first printed in the Daily Post on April 2. To get all of the local news first, pick up the Daily Post in the morning at 1,000 Mid-Peninsula locations.

BY EMILY MIBACH
Daily Post Staff Writer
A group of residents is suing Menlo Park after the City Council voted to install sidewalks on one side of Sharon Road near La Entrada Middle School.
The lawsuit, which was brought by resident Patrick Connolly and the group Save Our Menlo Park Neighborhoods on March 26, claims that the city did not follow the California Environmental Quality Act and other state laws when considering the project.
The council on Jan. 26 unanimously voted to remove about 11 parking spaces on Sharon Road between Altschul Avenue, where the school is located, and Alameda de las Pulgas to install raised concrete sidewalks for $700,000.
The council approved the sidewalks even though city planners suggested that they approve an asphalt strip along Sharon Road.
The strip would have been similar to other non-sidewalk paths in the city and would have allowed for parking to occur outside of school hours.
Connolly and his group wanted the asphalt strip and say that the council broke some of its own rules because it did not listen to the residents who wanted the strip or city employees.
Mayor Drew Combs said it's disappointing that the group decided to bring a lawsuit against the city over this issue.
Combs also said that council members made the decision for the same reason that they decided to go forward with a number of other projects in the city — to make the city safe for all residents.
But the group said there is a lack of analysis that proves sidewalks would be safer.
City Attorney Nira Doherty said the city was served with the lawsuit last week and council will discuss the lawsuit in closed session on Tuesday.