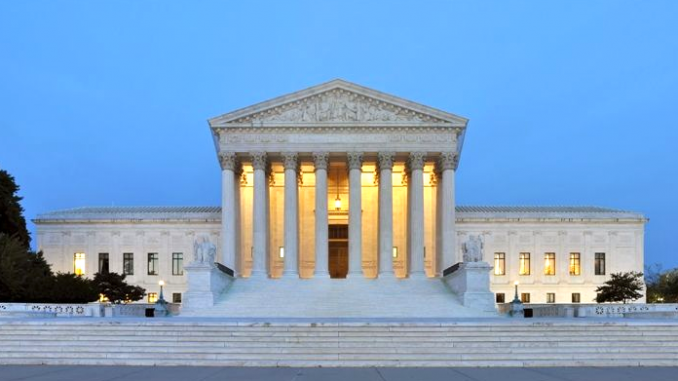 Once again, the U.S. Supreme Court has told Santa Clara County officials that their Covid regulations go too far in restricting religious activities.
This time, the high court said in a 5-4 ruling that the county can't prohibit Bible study groups, prayer groups and other in-home religious activities.
On Feb. 26, the court ruled that they can't ban indoor religious services because of the Covid pandemic. The plaintiffs in that case included a number of San Jose churches including Gateway City Church, The Home Church, The Spectrum Church, Orchard Community Church and Trinity Bible Church.
Both times the Supreme Court acted in an unusual late night session.
This time, the plaintiffs in the case were residents of the city of Santa Clara: Ritesh Tandon, a former Republican Congressional candidate; Karen Busch; Terry Gannon; Carolyn Gannon; Jeremy Wong, a minister; Julie Evarkiou; Dhruv Khanna; Connie Richards; Frances Beaudit and Maya Mansour.
In its ruling issued Friday night (April 9), the court overturned a ruling by the 9th U.S. Circuit Court of Appeals that was in favor of Santa Clara County.
The unsigned order of the Supreme Court said, "California treats some comparable secular activities more favorably than at-home religious exercise," allowing hair salons, retail stores, and movie theaters, among other places, "to bring together more than three households at a time."
The court acknowledged that California's policy on gatherings will change next week but said the restrictions remain in place until then and that "officials with a track record of 'moving the goalposts' retain authority to reinstate those heightened restrictions at any time."
Justice Elena Kagan wrote in a dissent for herself and her liberal colleagues, Justice Stephen Breyer and Justice Sonia Sotomayor, that the court's majority was hurting state officials' ability to address a public health emergency.
"California limits religious gatherings in homes to three households. If the State also limits all secular gatherings in homes to three households, it has complied with the First Amendment. And the State does exactly that: It has adopted a blanket restriction on at-home gatherings of all kinds, religious and secular alike. California need not … treat at-home religious gatherings the same as hardware stores and hair salons," she wrote. She added that "the law does not require that the State equally treat apples and watermelons."
Chief Justice John Roberts joined Kagan, Breyer and Sotomayor in voting against the ruling.
Voting in favor were Clarence Thomas, Samuel Alito, Neil Gorsuch, Brett Kavanaugh and Amy Coney Barrett. — From staff and wire reports