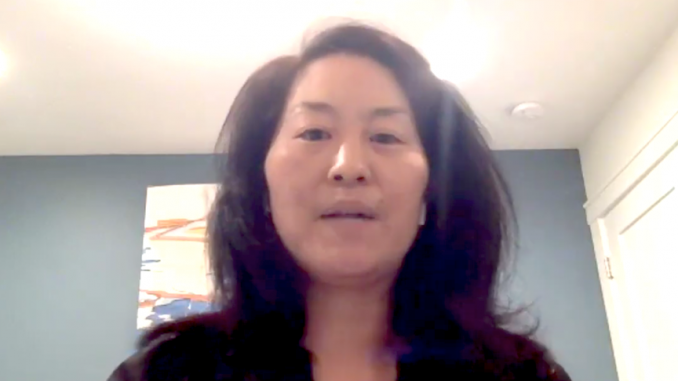 By the Daily Post staff
Palo Alto City Council in a 4-2-1 split appointed Bryna Chang, a former lecturer at Stanford's Graduate School of Business, to the Planning and Transportation Commission, replacing William Riggs, who resigned in January.
Chang received the votes of council members Pat Burt, Tom DuBois, Lydia Kou and Greer Stone. Eric Filseth and Greg Tanaka voted for Kathy Jordan and Alison Cormack picked Jessica Resmini.
Chang grew up attending Palo Alto schools — Nixon, JLS and Gunn. She said she lectured at Stanford's Graduate School of Business on "Innovation and Problem Solving" and "Critical Analytical Thinking."
Prior to that, she said she ran the MBA Program Office at Stanford. She also has experience in internet product management and management consulting.
Highlights of her community involvement including serving on the Gunn High School Site Council since 2020 and previous service on the site councils of JLS and Hoover.
A resident in the South of Midtown neighborhood, Chang said in her application to council she would like to represent south Palo Alto neighborhoods on addressing housing and other issues.
She noted that she is particularly interested in the North Ventura Coordinated Area, where Fry's used to be.
"This part of the city along El Camino needs to be revitalized, and I hope the plan injects energy into a neighborhood that has received so little investment," she said in her application. "Done well, it could really improve the quality of life for families currently living in the area, and make a small dent in the housing shortage."
Her term on the seven-member PTC ends in December.
Last month, council re-appointed incumbents Ed Lauing and Doria Summa to their expired terms on the commission. Seven other residents applied at that time, including Jordan, Resmini and housing advocate Kelsey Banes.
Summa is a critic of development and was endorsed by the slow-growth group Palo Altans for Sensible Zoning, which has also supported Kou, Filseth, Stone and DuBois.
Correction: Two biographical items about Ms. Chang were incorrect in an earlier version of this story. The story has been corrected to remove those errors.