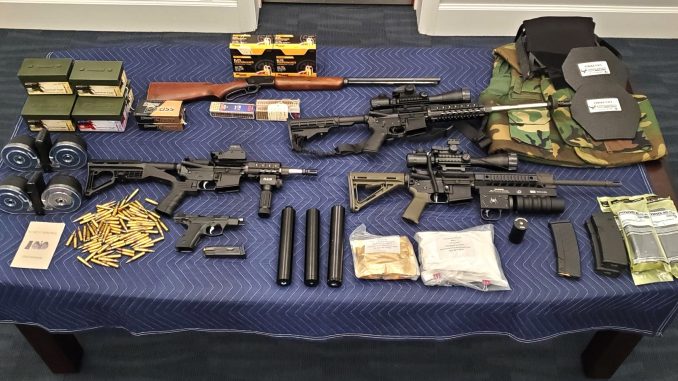 BY EMILY MIBACH
Daily Post Staff Writer
The San Mateo County District Attorney is looking to file 14 felony gun charges against a man who shot off a flare at 2:26 in the morning from his home in Hillsborough.
A man called Hillsborough police at 2:26 a.m. on Feb. 20 to ask if he could fire a flare gun at a birthday party, according to District Attorney Steve Wagstaffe. The dispatcher told the man, later identified as Thom Ruben, 66, not to fire the flare, but he did so anyway, said Wagstaffe.
Police arrived at Rubin's home in the 2800 block of Churchill Drive and found he was intoxicated. Officers said he showed them his gun, an AR15-style rifle with a grenade and flare launcher on it, according to Wagstaffe.
Since police initially thought the flare being shot was just a municipal code violation, they gave him a ticket and left.
But a few days later, police found photos on social media of Ruben with various guns, some illegally configured, and discovered that Ruben has been convicted of crimes in Switzerland, which makes it illegal for him to have guns in the state, according to Wagstaffe.
On Feb. 24, police got a search warrant and found multiple guns, illegal fireworks, potassium nitrate, multiple boxes and rounds of ammo and U.S. government-issued body armor, according to Wagstaffe.
Because of the social media posts, Ruben will be charged during his Thursday court appearance with four counts of illegal discharge of a firearm. He also faces 10 felonies related to the various guns, ammo and explosives he had.
Wagstaffe said he is not sure of the exact nature of Ruben's convictions in Switzerland, but said there are a number that would count as felonies in California.
Wagstaffe's office has prosecuted Ruben before for misdemeanors, the DA said.
Ruben is scheduled to appear in court on Thursday and is out of jail.
ᐧ