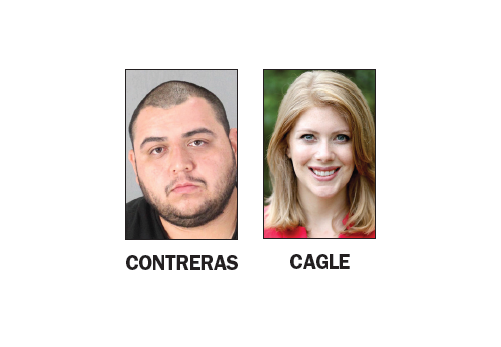 BY EMILY MIBACH
Daily Post Staff Writer
A former KRON4 reporter has been spared from testifying during the trial of Daniel Contreras, accused of killing a toddler in the unincorporated North Fair Oaks neighborhood.
San Mateo County Superior Court Judge Robert Foiles ruled on Monday (March 8) that the DA's office could not subpoena reporter Kate Cagle to testify during the murder trial that will begin later this month at the courthouse in Redwood City.
Cagle interviewed Contreras on Aug. 9, 2015, in the presence of Redwood City Police Detective Glen Albin at the San Mateo County Jail, according to court documents.
Contreras was arrested on Aug. 8, 2015, for allegedly killing his girlfriend's 17-month-old daughter, Evelyn Castillo.
Contreras beat the toddler after she wouldn't stop crying, resulting in multiple skull fractures, according to District Attorney Steve Wagstaffe.
Death penalty off the table
Wagstaffe had originally planned to seek the death penalty for Contreras but decided in December to drop the death penalty, saying life without parole was adequate. Wagstaffe said at the time that his reversal came after he and his death penalty team received hundreds of pages of information from defense attorneys about Contreras' upbringing and mental health issues.
Wagstaffe said it was his understanding that his prosecutor wanted Cagle to testify that she was not working with the police while conducting her interview.
According to a transcript of the interview, Albin reminded Contreras that he was still under the Miranda warnings.
Contreras told Cagle that he "made a mistake" and was frustrated at the child. He also said that Evelyn fell out of his hands, according to the transcript.
Originally, Contreras had told police that Evelyn had fallen from a table.
Contreras also told Cagle that he had been dating Evelyn's mother for 2½ months and described the child as "really beautiful," "very loveable" and "very curious."
Shield law argument
Cagle's attorneys argued that her interview was protected by the California Shield law, which protects reporters from having to disclose sources or any unpublished material.
Foiles ultimately sided on Cagle's side.
Cagle now works in television news in Los Angeles.
The issue of Cagle's testimony was just one of the issues attorneys sorted out before jury selection begins next week. Opening statements are set for March 21.