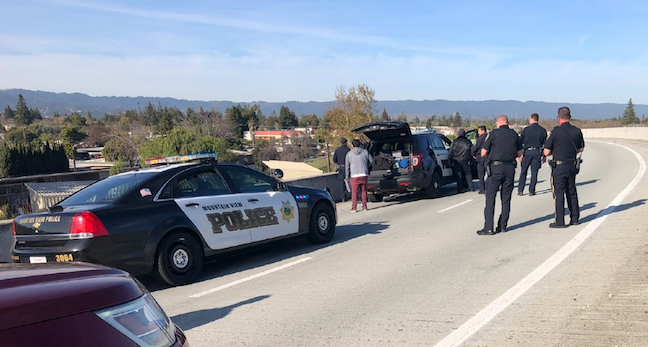 By the Daily Post staff
Traffic has been reopened on Highway 101 some 14 hours after a man threatened to jump from the Old Middlefield Road bridge.
At 11:45 p.m. Tuesday, the CHP issued a text message saying the freeway was open again, implying that the situation with the suicidal man had been resolved. However, no specifics were released about how the episode ended.
It began at 8 a.m. Tuesday when a man in his 30s drove to the overpass in a white sedan and threatened to jump, according to CHP Officer David LaRock. The distance between the bridge and the freeway is between 40 and 50 feet.
LaRock said the man, who is in his 30s, drove there with his "significant other," who the officer said could be his girlfriend, wife or partner.
When officers spoke with the man, he asked that the CHP find one of his male cousins in Marin, and CHP brought him to the overpass, LaRock said.
The partner and cousin, both in their 30s, remained at the overpass with CHP during negotiations.
More than a dozen CHP officers and crisis negotiators arrived to talk the man down from the ledge. CHP shut down all lanes of northbound 101 and all but two southbound lanes on the highway. CHP offered the man food and water, LaRock said.
"Time is on our side. We are not going to rush into anything, as to make this incident any worse," LaRock said at 7 p.m. Tuesday. "No one gets hurt or harmed by the use of time. We're not jumping to any conclusion that could potentially put someone at greater risk."
At 11:45 p.m., the CHP said the incident had ended and the highway was open again. No other details were available.
How to get help
There are many resources available to anyone in crisis, including the National Suicide Hotline at (800) 273-8255 and the Santa Clara County Suicide and Crisis Hotline at (855) 278-4204.