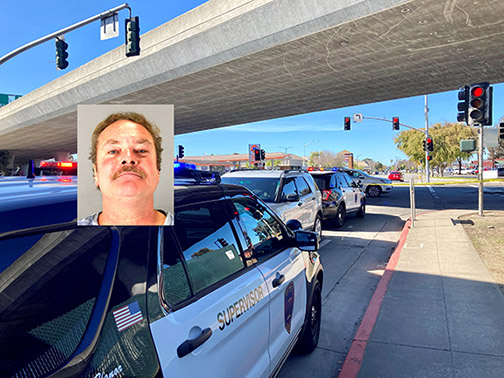 By the Daily Post staff
Police today (Feb. 28) have arrested a man suspected of fatally shooting his 57-year-old neighbor at an RV storage lot in San Mateo, where they both lived.
Officers arrested Allen Carl Runchey, 57, on charges of homicide and a felon possessing a gun.
Police got a call at 11:38 a.m. today from a man who said he had shot his neighbor in the chest. Then police received two more calls reporting gunshots in the area of Fashion Island Boulevard and S. Norfolk Street.
Police arrived and found a 57-year-old man suffering from a gunshot wound to the chest. Officers rendered first aid and CPR on the victim, who was then rushed to the hospital, where he underwent surgery. However, the man succumbed to his injuries. Police have not yet identified the victim.
Police said they haven't determined a motive. Both men live in mobile homes at the RV storage park and knew each other. Detectives said they have learned about an argument between the two prior to the shooting.
Anyone with information about the shooting is asked to contact police Detective Sgt. Paul Pak at (650) 522-7676 or pak@cityofsanmateo.org.