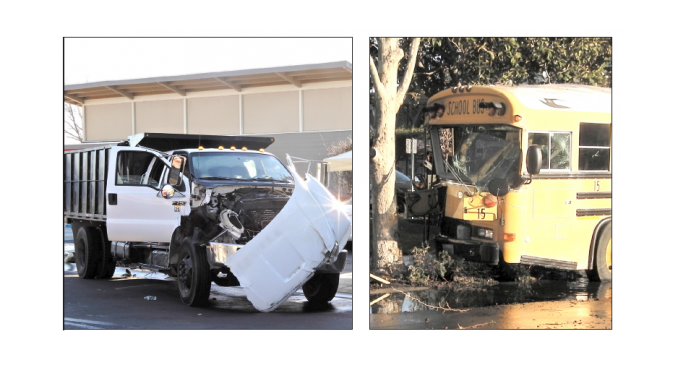 BY KYLE MARTIN
Daily Post Staff Writer
An unlicensed driver behind the wheel of a dump truck ran a red light and T-boned a Palo Alto school bus carrying seven kids to school, the CHP said.
The driver of the roofing company truck struck the bus at 7:57 a.m. Wednesday in the intersection of Middlefield Road and Colorado Avenue, said CHP spokesman Officer Art Montiel.
Montiel said the truck belonged to Cosmos Roofing Inc. and it was driven by Jaime Fernandez, 46, of San Jose, who will be cited for driving without a license.
Fernandez sustained lacerations and went to a hospital for his injuries and two children were injured in the crash but did not need hospitalization.
One of the injured students received a cut lip and the other received a scrape above one of their eyes, Montiel said.
The crash caused the bus to hit an electrical box and sheer fire hydrant, Montiel said.
Montiel said Fernandez ran a red light while the school bus had the green.
The unlicensed driver drove a white Ford F-750 truck, which was damaged on the front bumper and hood.
The bus passengers included seven children between six and 10-years-old and one driver.
The students were headed to school at El Carmelo Elementary School at 3024 Bryant St. and Fairmeadow Elementary School at 500 E. Meadow Dr.
Palo Alto Deputy Fire Chief Kevin McNally told the Post on Tuesday the bus struck a fire hydrant in the intersection that had to be shut off and replaced.