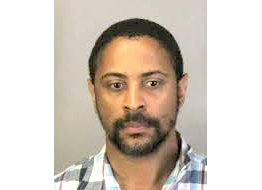 By the Daily Post staff
An Iraq War veteran who is accused of deliberately driving into a group of pedestrians in Sunnyvale because he thought they were Muslim will appear in Santa Clara County Superior Court in March for his preliminary hearing.
Isaiah Peoples, 36, has been charged with eight counts of attempted murder for injuring eight people on April 23, 2019, when he hit them with his car at El Camino Real and Saratoga Sunnyvale Road.
At a preliminary hearing, the judge decides whether there is probable cause to bind the defendant over for trial.
After he was arrested, the FBI opened a hate-crime investigation into the veteran who had a history of PTSD.
Peoples' attorney, Chuck Smith, previously told the Post the crash was in no way deliberate and that Peoples' mental health was a factor in causing the incident.
A teenage Sunnyvale girl suffered severe brain trauma in the crash and had to be put in a medically-induced coma while she recovered.
The girl, Dhriti Naraya, was hospitalized until at least August 2019, said Deputy District Attorney Carlos Vega. She returned home, but her injuries have diminished her ability to walk and speak, Vega said.
Vega would not speculate on whether he expects Peoples to be granted a competency motion to delay his trial until his sanity can be medically evaluated.
Peoples' hearing is at 8:30 a.m. on March 9 in Judge Robert Hawk's courtroom in the Hall of Justice at 191 N. First St. in San Jose.