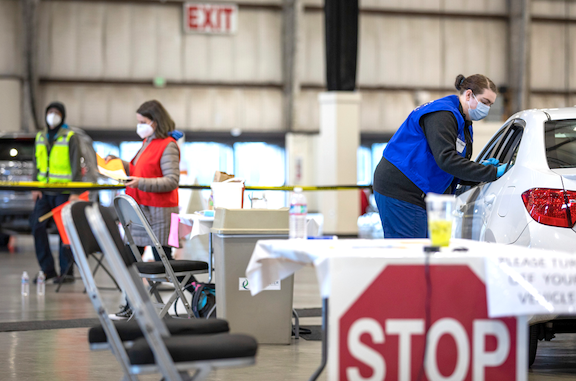 BY EMILY MIBACH
Daily Post Staff Writer
About 2,000 people received the Covid vaccine Monday (Jan. 25) while sitting in their car at a drive-through vaccination site at the San Mateo County Event Center.
Dignity Health, which runs Sequoia Hospital in Redwood City, is working with the county to get shots into arms.
The site currently is only providing vaccines to people 65 and over and have Dignity Health doctors or health care workers. In all cases, appointments for the shots are required.
Dignity Health patients have been contacted by their doctor's office and have set appointments. Others getting shots are workers in the In-Home Support Services program, which provides health care services to people with disabilities.
People encouraged to park for 15 minutes afterward
Those with appointments have to produce their ID and then they wait for five minutes to get their shot. People receiving shots stay in their car the whole time. After getting the shot, each person is asked to pull into a parking space and wait for 15 minutes to see if any adverse reaction occurs, said Iliana Rodriguez, deputy county manager.
People who have experienced allergic reactions to vaccines before or have something in their medical history that doctors think may result in a reaction to the vaccine, have to wait for a half-hour in the parking lot before heading home, Rodriguez explained.
Ambulances are standing by in case anyone does need medical assistance, and workers at the site are regularly checking in with the recently vaccinated.
Rodriguez said that so far there has only been one allergic reaction to the vaccine. That occurred two weeks ago when the county vaccinated 10,000 people at the event center.
If you don't hear from your doctor about going to get vaccinated, don't drive down to the Event Center.
A wait list for unused vaccinations
Dr. Shruti Dhapodkar, the county's health emergency preparedness manager, said people shouldn't go to the Events Center at the end of the day, thinking that they can claim unused vaccines. There have been reports from Southern California of people showing up at the end of the day to get any leftover vaccines.
The county and Dignity carefully allot the vaccines and if anyone cancels an appointment, people on a wait list are called to get their shot, Dhapodkar said.
Not everyone in San Mateo County will get vaccinated at the Event Center. Most will likely get vaccinated at their pharmacy or by their doctor, Dhapodkar said. But, the county is still working on ways to expand its vaccination efforts to other parts of the county.
To open additional drive-through sites, the county needs a large garage space where cars can pull up and wait, and a sheltered area for workers to prepare the vaccine for use, Dhapodkar said.
As the county began disclosing information about its drive-through vaccination center at the Event Center with hospitals and health care agencies around the county, Dignity approached the county to do a large vaccination event, Deputy Health Chief Srija Srinivasan said in an email.
Other hospitals invited to set up their own drive-throughs
Other hospitals have toured the event center drive-through, and the county is looking for ways to work with all hospitals in the county, said County Health spokesman Preston Merchant.
Without the county's help, Sequoia Hospital can only administer about 150 vaccines a day, said Dr. Dieter Bruno, chief medical officer at Sequoia Hospital. The county's participation increases the number of vaccines that get into people's arms.
"The hospital never trained for mass events, so it made sense to partner," Bruno said.
As a result, about 4,300 people will get the vaccine during the three-day event, which started Saturday and continued on Monday and Tuesday, Merchant said.
Roughly 100 people operate site, with sheriff's office employees directing traffic and the county's office of emergency services assisting people to get through the process. Dignity Health employees are preparing the vaccine and administering it to everyone who comes through.