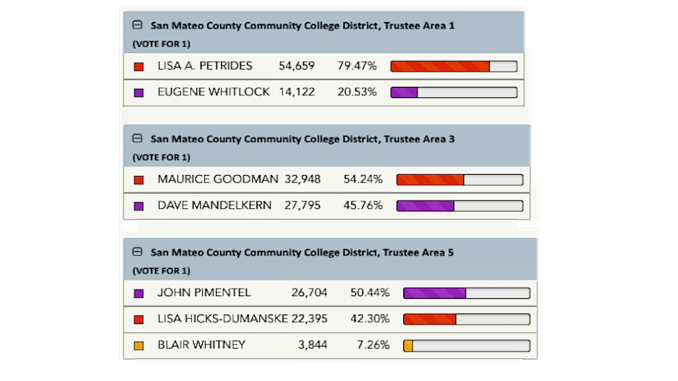 BY EMILY MIBACH
Daily Post Staff Writer
Lisa Petrides and John Pimentel, the two new board members of the San Mateo County Community College District, jumped right into business during their first meeting in office.
Typically, when people are elected to boards or councils, there is a ceremonial meeting where the new members are sworn in. Their families attend and there's often cake and pleasantries.
Pimentel and re-elected board member Maurice Goodman were sworn in Monday night. Petrides had been sworn in earlier in the day. Goodman was sworn in by two of his sons, Justice and Malcolm, and Pimentel was sworn in by state Sen. Josh Becker, D-Menlo Park.
Later in the meeting, the new board approved resolutions commemorating longtime board members Karen Schwarz and Dave Mandelkern. Schwarz decided not to run again after serving on the board since 1995. Mandelkern, who had been on the board since 2003, lost to Goodman 54% to 46%.
"Her contributions were immeasurable," newly selected board Presdent Tom Nuris said of Schwarz. "What she did during her tenure, and at other districts before, made a mark on education in this county."
The board's vice president, Richard Holober, noted that the board had lost a "very important voice" with Mandelkern losing his re-election bid. Goodman and Mandelkern ran against each other for the seat that spans from South San Francisco to Hillsborough, with Goodman prevailing.
The district a few years ago switched from at-large, countywide elections to being elected by district.
In 2018, Nuris was elected to represent District 2, consisting of mostly Daly City, and Holober was re-elected to represent District 4, San Mateo, Foster City and Belmont.
Petrides now represents District 1, which covers the coastside and San Carlos.
District 5, which covers Menlo Park, East Palo Alto and Redwood City, is now represented by Pimentel.
After being sworn in, the board dove into an array of topics, hearing an update on the controversial College of San Mateo gym contract, getting an update on the district's response to Covid, approving contracts and updated policies.
The gym contract, which has been in question since earlier this year, will come back to the board for a full discussion at the board's January meeting, according to Chancellor Mike Claire.
The gym is currently being run by a contractor, Exos. The board has been interested in looking into whether another operator could run the gym or if the district could take over operations itself.
The board heard from Claire about the possibility of extending Exos' contract, which ends on Dec. 31, for another three months while the board continues to ponder its possibilities.
The board also discussed the district's long overdue meeting minutes, which have not been updated since the board's Jan. 22 meeting.
Pimentel, who has long taken an interest in the district's transparency, said it's "untenable" the district is so far behind in minutes. He, Holober and Goodman all suggested that the board set a policy of when meeting minutes ought to be completed.
After the board's nearly four-hour-long meeting, it went into a closed session, where the public is not privy to the conversation board members are having.