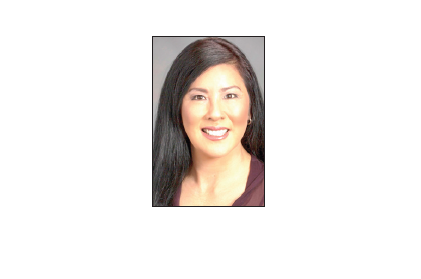 BY EMILY MIBACH
Daily Post Staff Writer
A local civil rights group on Friday (Dec. 4) called for the resignation of recently re-elected Los Altos Councilwoman Lynette Lee Eng after she said she felt threatened by text messages from one of the group's members.
Lee Eng told the Post Friday that she was worried she would be doxxed or have her home vandalized, similar to what has happened to other politicians in the Bay Area. Lee Eng received the texts from Justice Vanguard member Kenan Moos after not voting on an issue about whether police complaints could be submitted to a third-party, such as an auditor or retired judge. The vote was part of a larger discussion the council was having on Nov. 24 about policing in Los Altos.
Justice Vanguard asked the city over the summer to paint Black Lives Matter on a city street. It has also been working with the city on police reform.
The Post filed a California Public Records Act request for the texts in question. The city responded by saying they would be available on Friday, Dec. 11.
The Post asked Lee Eng to send a copy of the texts she received on Nov. 24, but she refused, saying she did not want to provide the texts to the Post but confirmed what Vanguard had posted on its Facebook page as accurate.
The four texts read:
"Your name will be all over the papers. We know there are racists that supported you. You are trying to delay this."
"It has nothing to do with budget and you know this."
"You lied to me in our discussions that you were going to support racial matters. You said you were the only one in favor and it looks like you are the only one against them. Very disappointing."
"I just want to be clear, this is in no way a threat of any kind. This is me expressing my disappointment."
After getting the first two texts, Lee Eng said she was "getting comments from Vanguard calling me racist now."
"I am making this known to the public because if anything were to happen to me or my family, I am making it known that I voted the way I did and I am representing my concerns because of lack of information … I want to protect myself and my family," Lee Eng said.
Lee Eng said the third and fourth texts came in while she was making her statement.
'Stunning'
In a statement issued Friday, Justice Vanguard called Lee Eng's statement "stunning."
"The actions of this councilwoman are far more harmful than those of Amy Cooper, the woman who called the police on a Black man in New York for politely asking her to leash her dog. Ms. Eng's actions were an attempt to silence a leading local Black voice by criminalizing him and his organization.
She also put him in physical danger by making him a target of local police, as they now believe that he threatened her," Justice Vanguard said in a statement.
"A Black person should be able to express their disappointment without being criminalized. The question is if he was white, would she still have claimed that she was threatened?" the statement from Justice Vanguard says.
Concern over doxxing
Lee Eng says she is not scared of the person who sent the texts, but rather the possibility of being doxxed and becoming the subject of the cancel culture.
Doxxing is the publishing of private and identifying information on the internet with harmful intent.
"I know allegations are saying it's because of someone's color and it's not," Lee Eng said, adding that you can never be completely sure who is behind the texts you are getting.
"Why I am fearful of doxxing or cancel culture? … They may have not been intending to do anything, (but) what happens when people's names get out there? You never know what it may trigger in other people," Lee Eng said, citing the vandalism that occurred at the homes of San Jose Mayor Sam Liccardo and Oakland Mayor Libby Schaaf.
Lee Eng pointed out that she is the first Asian American woman on the city's council, and she is proud to serve Los Altans based on her experiences, but said there is a lack of respect for diversity of ideas.