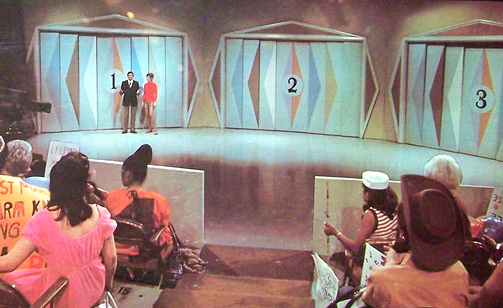 BY EMILY MIBACH
Daily Post Staff Writer
During tonight's (Nov. 16) Redwood City Council meeting, when the council approved the massive five-block Greystar office and apartment complex, Councilman Ian Bain likened the city's negotiating to the game show "Let's Make a Deal."
Host Monty Hall would show contestants door No. 1, and whatever was behind the door, such as a dining room set, could be theirs, Bain explained. Or, the contestant could go with door No. 2 or door No. 3, which might have behind them an RV, a trip to Hawaii or a mule. If the contestant picked the mule, they'd hear a loud "zonk."
Bain's comments came shortly before the council unanimously approved the project. But it wasn't without some council members toying with the idea of asking Greystar for more.
Councilwoman Diana Reddy, a staunch affordable housing advocate, made a few comments throughout the meeting about Greystar making all 540 of the apartments in the project affordable to people who earn less than $120,000 annually.
The development as approved reserves 147 homes for low-income earners.
The project will also consist of an 8,000-square-foot child care center, which will serve 60 to 70 children, 530,000 square feet of office space and 28,000 square feet of retail space. Of the retail space, 19,000 of it will be reserved for "family-friendly" entertainment.
Councilwoman Janet Borgens also said she wanted more affordable housing added to the project. She also asked if it was possible to keep Greystar from selling the project to a nonprofit, which Greystar did last year.
The developer sold a 175-apartment complex at Franklin and Monroe in Redwood City to Stanford. If Stanford faculty or employees related to the university's academic pursuits move into those apartments, Stanford can apply for a property tax exemption due to its nonprofit educational status. City Manager Melissa Stevenson Diaz said in September 2019 that the city could lose $100,000 in property tax revenue because of the Stanford purchase.
Borgens asked City Attorney Veronica Ramirez if the city could prevent a similar sale, but Ramirez did not appear to think there was any negotiating leeway for the city since Greystar was not asking for anything extra from the city.
Councilwoman Shelly Masur asked Jonathan Fearn, Greystar's senior development director, if Greystar plans to rework the office space because more people are working from home due to the pandemic. Fearn responded that the amount of office space will stay the same, but there will likely be fewer workers in the space. He suggested that a worker will get about 300 square feet, as opposed to some tech companies allotting each worker about 160 square feet before the pandemic.
Tonight's meeting comes after the council postponed its decision on the project last week when the meeting had stretched past midnight. At that meeting, residents weighed in on the project, with some asking for more affordable housing, while others saying it should be approved as is.
Councilwoman Giselle Hale and Bain both pointed out that although Greystar is providing some affordable housing that isn't required. They pointed out that some of the apartments are two or three bedrooms units, which the city has been seeking from developers.
The project will replace the Redwood Roller Rink at 1303 Main St. Fearn told the council that Greystar will build a new roller rink, and the operator of the rink will have their rent subsidized for four to five years. In addition, the child care center will have no rent for 10 to 15 years.
Hale noted that the subsidy for the child care business would likely be in the millions.
Greystar is also buying a property from the city for $8 million. That $8 million will go toward building low-income housing.
Bain said that bringing back some family entertainment is a big deal to him.
"When I look at what we have with child care, the roller rink … I am inclined to think this is the best deal we can get," Bain said, noting he doesn't want to gamble it away for a mule.
ᐧ