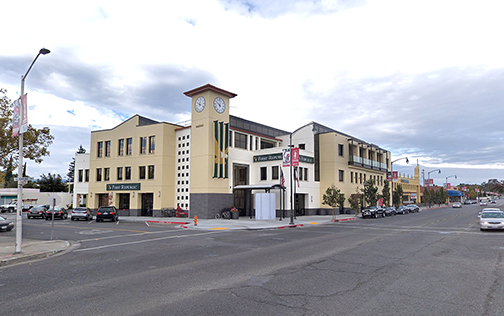 BY KYLE MARTIN
Daily Post Staff Writer
Palo Alto City Council is expected to approve a new grocery store on El Camino Real in the College Terrace neighborhood where two previous grocers have closed.
"We are excited for the opportunity to serve the community," Khaled Taffi, CEO and manager of the new grocer, Real Produce International Market, wrote to Palo Alto's Planning Director Jonathan Lait. The market will have a deli, a "grab-and-go area," fresh flowers and coffee.
"We want to open our doors as soon as possible and if there isn't delay from the city or county, we would love to open before Thanksgiving," Taffi wrote.
However, the store's approval is on the council's Nov. 16 agenda — just a week and a half before Thanksgiving.
Taffi, a San Jose resident, husband and father of three, and former chef with over two dozen years of experience in the food business, said the market's team members consist of a family which also owns wholesale fruit and vegetable businesses in Oakland, South San Francisco and a grocery store in San Jose.
Taffi asked that Lait understand the store owner's wishes to open with some immediacy, adding the store could be open within six weeks of its approval.
"It is very important that we open as soon as possible and we hope you agree during these hard times how important it is to have a successful local/neighborhood market," Taffi wrote.
The location at 2100 El Camino at Oxford Avenue was home to the beloved JJ&F Market, owned and operated by three brothers of the Garcia family. The market closed in 2013 after decades of operation.
Previous attempts
The council approved a 58,000-square-foot office building that included 8,000 square feet for a grocery on the ground level. The first grocery, College Terrace Market, closed in late 2017 after being open about six months. And the city earlier this year saw Khoury's Market close because of disruptive construction scaffolding and tarps clouding the view of their building that stifled their business, one of the owners, Chris Khoury, previously told the Daily Post.
The other problem the location has is parking — there are no visible parking spots from El Camino and the underground parking might not be inviting for people who want to make a quick visit to the store.
"A stable market at this location has been a long-desired goal by the city council and neighborhood when it approved the College Terrace Center development," City Manager Ed Shikada wrote to the council. "Having another grocery store that provides essential services and goods to the Palo Alto community is particularly beneficial during the pandemic, which will provide in-store and same-day delivery service."