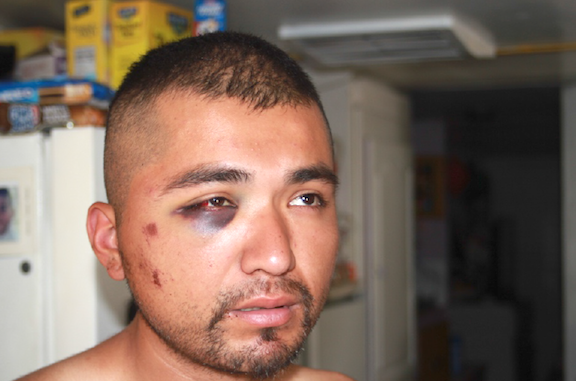 BY SARA TABIN
Daily Post Staff Writer
Lawyers for the city of Palo Alto are trying to get a police brutality lawsuit dismissed or amended because it is too snarky.
Attorneys for Julio Arevalo filed a $10 million federal lawsuit against the city, Police Chief Robert Jonsen, Police Agent Thomas DeStefano and seven other officers over an arrest outside Happy Donuts in July 2019.
DeStefano threw Arevalo to the ground face-first in an incident caught on a security camera and police body cameras. DeStefano told police investigators that he suspected Arevalo of dealing drugs, but no drugs were found on Arevalo.
The 199-page lawsuit, written by attorney Cody Salfen of San Jose, includes some colorful lines.
"Attention Future Police Officers. If you want to violate constitutional rights, severely beat people within an inch of their life without legal justification, engage in criminal conduct off and on duty and lie in your reports without any substantive or meaningful consequence, PAPD is the place for you," reads the lawsuit.
Attorneys representing Palo Alto and DeStefano objected to the way the lawsuit was written.
"Sarcasm and slang, sensationalized warnings to the public and rhetorical questions, and colloquialisms may increase the odds of media coverage, but are an affront to the solemnity of the judicial process and have no place in a United States District Court complaint," reads the motion to dismiss.
Removing defendants
The motion also seeks to remove employees besides DeStefano, such as Lt. Ben Becchetti who investigated the incident for the department, from the lawsuit claiming they aren't responsible for the incident.
Lisa Scheff, the records manager for the Police Department, is named in the lawsuit because she allegedly didn't respond to Arevalo's public records request. The motion to dismiss says there is no constitutional right to access government records.
Salfen filed a response to the city's motion, saying the use of rhetorical devices isn't causing confusion. He says it is right to name people besides DeStefano if they were involved in covering up the incident. The response says Arevalo will amend his complaint if the court wants.
The Palo Alto City Council discussed the lawsuit behind closed doors on Monday.