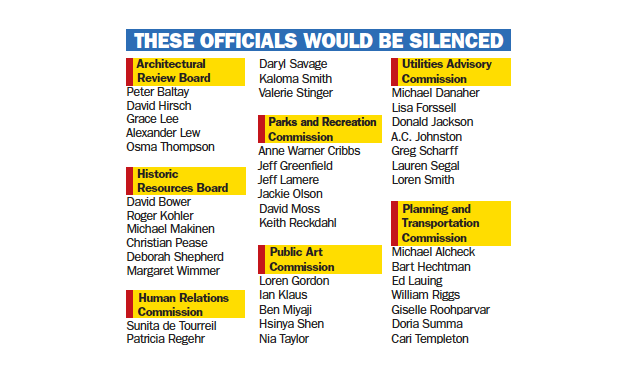 BY SARA TABIN
Daily Post Staff Writer
Palo Alto residents told City Council on Monday that a proposal to stop members of city boards and commissions from talking to the press flies in the face of government transparency and the First Amendment.
Technology journalist Larry Magid said the proposal is anti-democratic and that even discussing it is a waste of time that should be spent dealing with the pandemic and economic downturn.
He said he served on a federal commission under President Obama and was allowed to speak to the press. Magid pointed out that his wife, Patti Regehr, sits on the Human Relations Commission.
"Why on earth would anyone go out of their way to propose a provocative and downright silly plan?" he said. "It shows a lack of seriousness or worse, a petty obsession or fear of public disclosure and discourse."
Councilman Tom DuBois and Councilwoman Alison Cormack helped write a proposed handbook for city commissioners and board members, including instructions telling them not to talk to reporters.
The handbook says statements from board and commission members might be misinterpreted as the opinion of the entire board or the city.
"Statements to the media should generally be avoided," reads the proposed handbook. It says questions from the media should be routed through the commission chair in collaboration with city spokeswoman Meghan Horrigan-Taylor.
Council took public comment on the proposed handbook on Monday night but deferred any decision-making until a future meeting.
Residents also criticized the new commission guidelines for making it easier for the council to remove commissioners.
Randy Popp, a former member of the Architectural Review Board, said the stifling of speech is a First Amendment issue.
Resident Rohin Ghosh said commissions are already opaque. He said not letting commissioners speak to the press hurts the public's ability to follow what is going on.
Retired public defender Aram James said the city is inviting a lawsuit with the press restrictions.
No one spoke in favor of the gag order.